Recipe for a courgette stuffed with good nutritional values for athletes.
Ingredients
1 Zucchini
150g of lean cooked meat (in this case we use stewed veal loin)
3 tablespoons of tomato pulp
1 Slice of lean cheese
25g of leek
Coriander
Salt and pepper
1 tablespoon of olive oil

Preparation
Start by cutting the courgette in half and removing the inside.
Season lightly with salt and cook in the microwave at full power for 5 minutes.
Meanwhile, chop the inside of the courgette, the leek and the coriander.
In a non-stick skillet, fry the leek and the courgette in oil for 2 minutes, add the shredded meat and the tomato pulp, add salt and pepper.
Let it cook for a few minutes and finish with the chopped coriander.

Fill the inside of the courgette with the filling and end with the cheese cut into pieces.
Gratin in the oven at 200º for 10 minutes.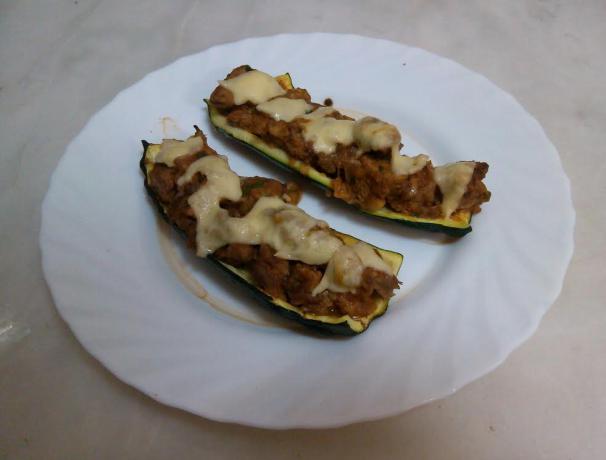 [box type="shadow" align="aligncenter" ]
Nutritional value
Calories 309
Protein 41g
Carbohydrate 7g
Fat 13g
You can share your recipes here.