O Serious Mass is probably the best known gainer on the market, but is it worth it?
Optimum Nutrition is one of the best and most prestigious supplement brands, being responsible for the famous Whey, Gold Standard.
We reviewed the Gold Standard here, and is in fact a good protein, but Serious Mass is unfortunately not at the same level.
Like all gainers, the goal of this supplement is to help you gain weight, above all through the high number of calories per shake.
So let's start reviewing Serious Mass.
Nutritional value
Optimum Nutrition makes several highlights in this supplement, the main ones being:
1250 calories per shake
50g of a mixture of proteins
More than 250g of carbohydrates with no added sugar
25 Vitamins and Minerals
So let's go over this in detail.
The nutritional values of this supplement in the vanilla flavor are as follows.
| | | |
| --- | --- | --- |
| | Dose / 334g | % |
| Calories | 1261 Kcal | |
| Proteins | 53.10g | 15,90% |
| Carbohydrates | 252.30g | 75,54% |
| Fats | 4.40g | 1,32% |
As you can see from the table, the Serious Mass consists of only 15.90% of protein, which is an extremely low value, and to get the 50g of protein highlighted by the brand, you need to use a full dose, which corresponds to 334g of product.
In addition to low protein levels, carbohydrate levels are 75%, that is, too many carbohydrates.
As for fats, the levels are low and therefore there is not much to comment on.
Nutritionally, Serious Mass is a bad supplement.
Ingredients
Protein
Serious Mass uses several sources of protein through a so-called Protein Blend.
In this protein mixture there are three quality proteins, with Whey Concentrate being the main one, Calcium Caseinate the next and finally, the egg protein, Albumin.
Protein sources are good, but they are of little use when the amount used is so small.
Carbohydrates
Maltodextrin is almost entirely the source of carbohydrates in Serious Mass.
What carbohydrate is this?
Maltodextrin is a source of fast carbohydrates, with a high glycemic index and very similar to Dextrose / Glucose.
It is a cheap source of carbohydrates, and its use is not recommended beyond post-workout.
That is, bad choice.
Extras
25 vitamins and minerals is one of the highlights of the brand in this product, and is a good addition to the supplement, as it has a huge variety of vitamins and minerals in good quantities.
In addition to vitamins and minerals, there is an addition of Creatine, Glutamine and MCT.
But here, unlike vitamins and minerals, there is a problem.
THE Creatine represents 0.29% of the supplement and only 1g per dose.
THE Glutamine?
The same thing.
MCT, on the other hand, is a fat, and if the fat percentage is 1,32%, obviously, the amount of MCT is miserable.
The recommended daily dose for creatine supplementation? It's 5g.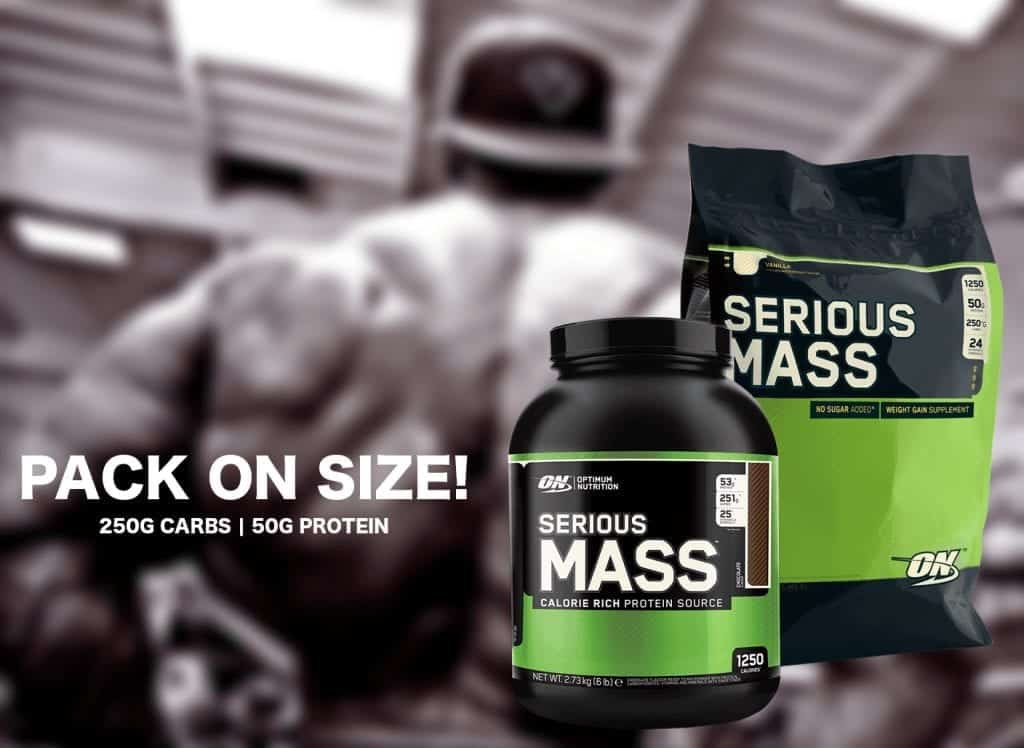 Price
We now need to analyze the price, and for that we used the values practiced by the Prozis store.
| | | |
| --- | --- | --- |
| | 2.7kg | 5.4kg |
| Doses | 8 | 16 |
| Cost Per Serving | 3.24? | 2.81? |
| Total cost | 25.99? | 44.99? |
| Half dose cost | 1.62? | 1.40? |
O Serious Mass it is available in the format of 2.7 kg and the largest, 5.4 kg, with 8 and 16 doses respectively.
That is, even in the 5.4 kg bag, if you use the full dose indicated by Optimum Nutrition, you only have 16 shakes until you finish the product.
Cost per serving is 3.24? in the smaller format and 2.81? in the largest, which is significantly superior to Scitec Nutrition's Jumbo.
In addition to the cost per dose, we added the value if you choose to use only half a dose, which is what many people who use this supplement do, and you already get about 25g of protein per shake.
So, is it expensive or cheap?
Bearing in mind that 75% of this supplement is Maltodextrin, the price falls short.
Where to buy?
You can find Serious Mass available on several sites.
How and when to take Serious Mass?
The best time to take this supplement is after training.
In addition, it is a good idea to use only half a dose instead of the full dose, as the carbohydrate content is too high.
Another strategy would be to use half a dose before training, and half a dose after training.
Conclusion
O Serious Mass Optimum Nutrition, unlike Gold Standard, is not a good supplement.
It is a gainer with only 15,90% of protein, an exaggerated 75,54% of carbohydrates, all from maltodextrin, a source not highly recommended.
Will you gain weight with Serious Mass?
Yes, most likely yes.
The problem is that most likely too, much of that weight will be not muscle, but fat.
If you intend to purchase a product from this category? gainer? opt for one with a higher protein content, and preferably with other sources of carbohydrates.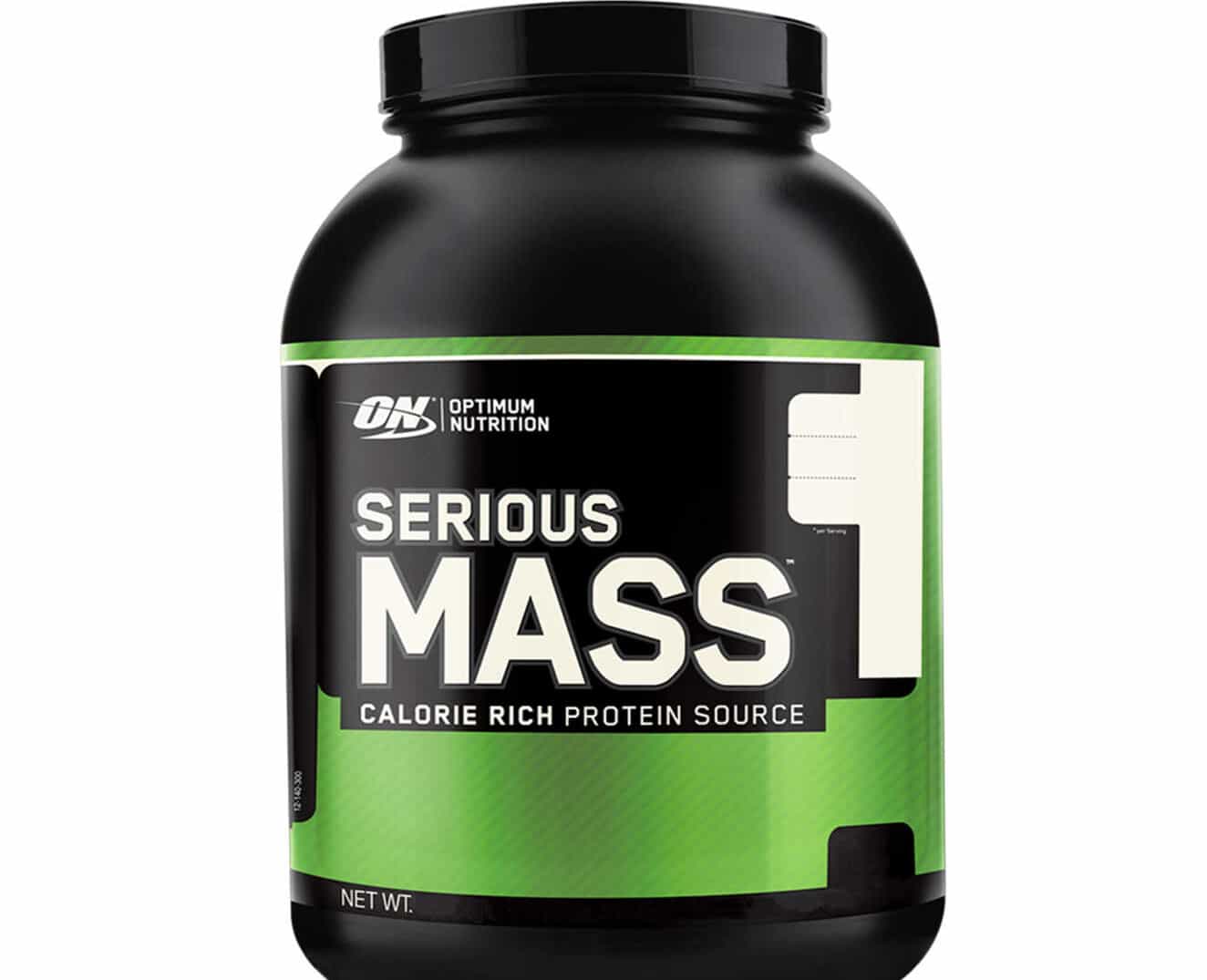 Positive points.
Nothing really positive.
Negative points
Sugar and more sugar.
Very little protein.