THE 100% Whey Professional is a Scitec Nutrition brand whey protein supplement widely used by gym practitioners.
Let's take data from this protein and do an in-depth analysis of this product.
The 100% Whey Professional supplement is available at 3 sizes, a small one of 920 grams, a medium one with 2350 grams and the largest one contains 5000 grams, that is, 5kg.
In addition to the diversity of sizes, there is an even greater variety when it comes to flavors, with the classic strawberry, chocolate or vanilla being present, but also some more alternatives, such as caramel or vanilla / blackberry.
Ingredients
As for ingredients, they vary from flavor to flavor, but basically consist of the following:
(Information taken from the official website of the brand, we used the strawberry flavor)
Concentrated Whey Protein
Taurine
L-Glutamine
L-Leucine
Whey Protein Isolate
Digestive enzymes
The ingredients are listed in order of concentration in the product, that is, the main ingredient is Whey Concentrate and, Whey Isolate although it is in the formula, it is in a residual dose.
In addition, they contain normal sweeteners and dyes in whey flavored supplements.
Looking at the ingredients, is it a good formula?
Not really.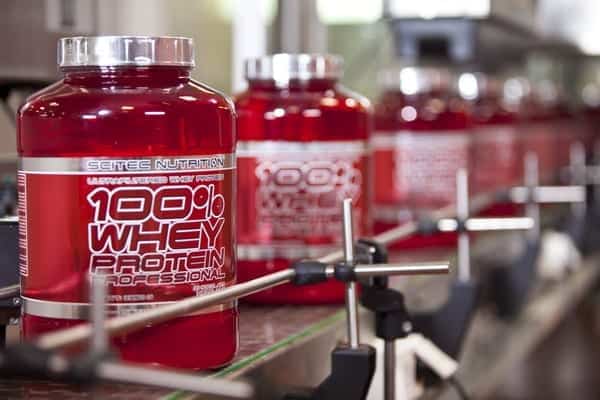 Nutritional value
The nutritional values found on the brand's website are as follows:
| | | |
| --- | --- | --- |
| | 30g | 100g |
| Protein | 22g | 73.3g |
| Carbohydrates | 2.1g | 7g |
| Fat | 1.7g | 5.67g |
For each serving we have 22g of protein, and the protein concentration in this supplement is 73.3% as we can confirm in the amount per 100 grams.
This Whey from Scitec uses doses of 30g, that is, each scoop provides 30g of supplement.
A concentration of 73% in a whey protein concentrated by itself is nothing special, this being the second lowest rating of supplements reviewed so far, earning only Elite Whey from Dymatize.
As for the amounts of carbohydrates and fats, it is within the range of what we normally find in concentrated whey protein supplements.
Now the problem is, these 73.3% of protein are not pure whey protein.
THE Scitec Whey Professional includes a so-called ?Amino Acid Matrix? that contain Taurine, L-Glutamine and L-Leucine.
The amount present per 100 grams of product is 3.3g in the case of Taurine, 0.70g in the case of L-Glutamine and 0.33g in the case of L-Leucine.
In the case of L-Glutamine and L-Leucine, these amino acids can be embedded in the aminogram, this is not the case with Taurine.
Taurine is a non-essential amino acid and only serves to increase the protein content of the protein in a 'false' way, since it adds 3.3g of protein value to the nutritional table that are not of whey protein, that is, those 73.3g are actually 70g of whey protein concentrate and 3.3g of taurine.
As for the case of L-Glutamine and L-Leucine, the values are so low that there is little to be said about them.
Finally, digestive enzymes are always a good addition and this formula contains Bromelain and Papain, which is positive.
Aminogram
Now, as always, we will also analyze the aminogram of this supplement and see in more detail the quality of this product.
The table shows the amount of amino acids present in percentage per 100g of protein, containing 10.6% of Leucine, 6.4% of Isoleucine and 5.9% of Valine, totaling a value of 22.9% of BCAA's per 100g of protein.
We separated these values by real values, that is, we calculated the value of BCAA's for each 100g of product and not for each 100g of protein.
We also calculated the BCAA's value for each serving, which gives us the values that really matter.
In addition, we will put these values in perspective with two other proteins already analyzed here, the ON Gold Standard and the Myprotein Impact Whey.
We chose Gold Standard because it ranks relatively in the same category as this Scitec product in terms of price. and Impact Whey because it is probably the best concentrated Whey supplement with the best price / quality ratio on the market.
| | | | |
| --- | --- | --- | --- |
| | Scitec Whey | On Gold Standard | Impact Whey MP |
| Total Protein | 73.3g | 81g | 82g |
| BCAA?s/dose | 4.8 / 30g | 5.5 / 29.4g | 4.7 / 25g |
| BCAA?s/100g | 16.03g | 18.7g | 18.7g |
Simply put, Scitec's whey is the worst of the three.
They have the lowest concentration of protein (73.3%) and BCAA's (16.03%) in comparison.
As you would expect, neither the addition of L-Leucine makes this protein stand out in the amount of BCAAs and nor the addition of taurine can mask the low protein content of this supplement.
We can say that the Scitec 100% Whey Professional it is a mediocre whey protein supplement.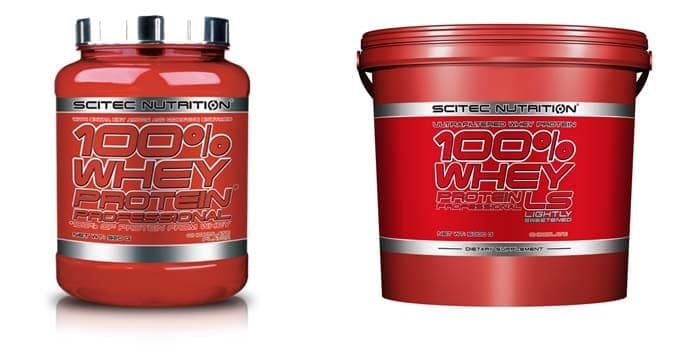 Price
We have already seen that the ingredients of Scitec Nutrition's 100% Whey Professional are not the best and we have also confirmed this in the nutritional values, where it leaves something to be desired, leaving only the question of price to be able to classify this product correctly.
Below is a table with an analysis of the average price found in the market.
| | | | |
| --- | --- | --- | --- |
| | 920g | 2350g | 5000g |
| Doses | 30 | 78 | 166 doses |
| Cost Per Serving | 0.76 ? | 0.67 ? | 0.59 ? |
| Total cost | 22.99? | 52.99? | 98.99? |
Again, simply and directly, the price is bad.
To put prices in perspective, we decided to put all protein supplements analyzed so far face to face.
In order not to make the comparison too confusing, we will use the average version of each product, the 2 kg.
Scitec Whey

2350g

Dymatize Elite 2268g
Myprotein Impact W2500g
Myprotein Impact I2500g
ON Gold Standard 2273g
Prozis Whey C2000g

Prozis Prime

2000g

Doses
78
68
100
100
77
66
80
Cost Per Serving
0.67 ?
0.61 ?
0.31 ?
0.48 ?
0.75 ?
0.47 ?
0.38 ?
Total cost
52.99 ?
42.00?
30.89 ?
48.89 ?
58.00?
30.99 ?
29.99 ?
Scitec's Whey Professional is the second most expensive product on the list, with only Whey from Optimum Nutrition, Gold Standard, it is more expensive.
It can still be more expensive than an exclusively isolated whey protein supplement, Impact Whey Isolate, this is the best whey ever analyzed here in terms of quality.
Where to buy?
You find this supplement available here and you can still use the code GVIRTUAL to get a discount.
Conclusion
THE 100% Whey Professional by Scitec Nutrition is not the worst whey protein supplement we've ever analyzed, Prozis Whey Primehowever, it leaves something to be desired in terms of quality.
In addition, as if that were not enough, the price of this supplement is high, especially considering its quality.
It is difficult to recommend this product when there are so many better and cheaper alternatives.