Prozis 100% Whey Prime Protein Supplement Analysis
[box type="warning" ]Note.
This review refers to the original version of Whey Prime.
Whey Prime 2.0 was recently released for which you can find the review here.
After analyzing the Impact Whey, we decided to look at another well-known protein supplement: 100% Whey Prime.
This supplement belongs to the Prozis Sport line of the Prozis brand and is easily found on the store's website, and beyond.
It is available in various formats, various flavors, and of course, various prices.
But, is it a good supplement?
Not really.
Ingredients
This supplement uses several ingredients, but the most prominent are the whey protein matrix and the amino acid matrix.
You will find the complete list of ingredients here.
The protein sources for this product are as follows:
Whey protein concentrate
Whey protein isolated
Protein isolated from milk
Concentrated milk protein
Hydrolyzed Whey Protein
Wheat protein
Looking at the ingredients, we immediately concluded that this is not an exclusively Whey protein supplement.
It has Whey, Casein and the weak wheat protein.
This turns out to be misleading, as the name of the supplement is 100% Whey Prime.
As for the amino acid matrix, it has several, as you can see in the list, like the Creatine, Glycine or Glutamine.
Finally, it includes traditional and normal flavorings, dyes and thickeners.
It doesn't start well.
Nutritional value
So let's get to know the nutritional values of Whey Prime.
| | | |
| --- | --- | --- |
| | 25g | % |
| Proteins | 20g | 80% |
| Carbohydrates | 2.4g | 9.6% |
| Fats | 1.1g | 4.4% |
For each dose of this supplement (25g each scoop) we have 20g of protein.
This means that Whey Prime is made up of 80% of protein, which is a good value.
Regarding carbohydrates and fats, there is not much to say, since they are within what is considered normal in this type of supplements.
However, although these values look promising, let's look in more detail at the quality of this protein.
In other words, it's time to take a look at the aminogram.
Aminogram
This is the aminogram of Whey Prime and this is where this supplement starts to lose (many) points.
We know that BCAA's they are the most important amino acids for muscle growth, and Prozis knows it too, so we highlight their addition to this product.
However, the values of these amino acids in this supplement are present in low amounts.
In order to have a basis for comparison, we will place it alongside Impact Whey.
| | | |
| --- | --- | --- |
| | Whey Prime | Impact Whey |
| Total Protein / % | 80% | 82% |
| BCAA's / 25 g | 3.97 g | 4.7 g |
| BCAA's / % | 12,72% | 18,77% |
These are the values of BCAA's present in Whey Prime and Impact Whey.
There is obviously a significant difference, and below is a small and ironic description of the brand in relation to this product.
?Our team of scientists, nutritionists and food engineers went back to the starting point and rethought the entire whey production process.

Applying modern scientific knowledge and cutting edge technology, we found new ways to produce whey and optimized the whole process.

The result? Prozis Labs has developed new procedures to make the protein more efficient than ever, but with lower production costs.?

?…enriched with BCAA…?
New knowledge and procedures for the most efficient protein ever, and still enriched with BCAA's.
Incredible.
The most efficient protein ever, enriched with BCAA's and has only 12.72% of these amino acids.
It doesn't seem to be that efficient.
Why does this happen?
One of the reasons why Whey Prime is low in BCAA's, are its sources of protein, and mainly, the use of wheat protein.
But that is not the only reason.
The other reason is the use of a technique called Aminospiking.
What is Aminospiking?
Aminospiking is when a brand uses amino acids in isolation to increase the total protein value of a supplement.
This makes it possible to reduce production costs.
For example, if we create a supplement and put 70g of whey protein and 10g of taurine for every 100g, we can say on the label that our product consists of 80g of protein, when in fact only 70g is really complete protein.
In the case of Whey Prime, the most evident case is undoubtedly Glycine.
THE Impact Whey Myprotein for example has only 1.14g of Glycine, which is a normal value for a whey protein.
THE Elite Whey from Dymatize brings 1.3g of Glycine, perfectly normal.
The Whey Prime?
10.24g of Glycine for every 100g.
It seems that Prozis Labs laboratories have really managed to reduce production costs, it is a pity that they have also sacrificed the quality of the protein.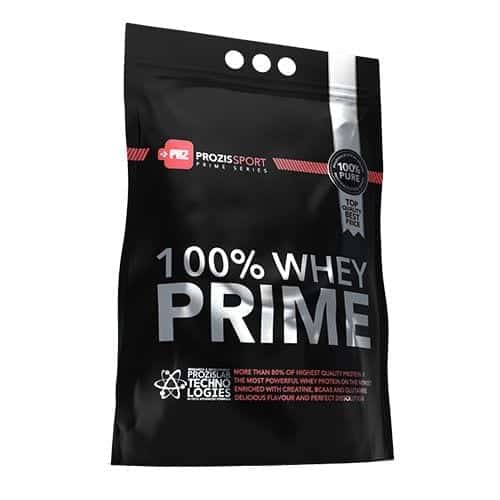 Price
| | | | |
| --- | --- | --- | --- |
| | 454g | 900g | 2000g |
| Doses | 18 | 36 | 80 |
| Cost Per Serving | 0.55 ? | 0.49 ? | 0.38 ? |
| Total cost | 9.99 ? | 17.99 ? | 29.99? |
Looking at the price alone, we cannot say that it is a properly expensive protein.
Especially next to the most well-known proteins such as Optimum Nutrition or the Scitec Nutrition.
It costs 38 cents per beat in the 2kg version, that is, a low value.
In the smaller versions, the value goes up a lot as we can confirm in the table.
However, when we have the chance to buy Impact Whey for a lower price, does it make sense to consider this low quality supplement?
Note. These are the prices charged by Prozis on the date of the analysis.
Where to buy?
You find this supplement available here and you can still use the code GVIRTUAL to get 10% discount.
Conclusion
Whey Prime has a good percentage of "protein" and costs 38 cents per shake in the 2kg version.
If we stayed here, it would apparently be a good buy.
However, if you read the analysis, you know that the story is a little different.
First, it is a supplement that sacrifices protein quality to reduce production costs.
Second, it is not a Whey protein supplement but a mixture of several proteins.
Third, the 80% of protein on the label does not correspond to 80% of pure protein, but rather a complete protein mixture with added amino acids.
As if that were not enough, it is probably one of the proteins on the market with a lower percentage of BCAA's.
In short, it is a bad supplement.
Have you used this protein?
Leave your opinion in the comments area.