Prozis Oatmeal + Whey supplement review
In the midst of immense analyzes, Proteins and Creatines, this supplement does not fit into any of these categories.
It could be said that it is a gainer, but it would not be 100% correct either.
So what is Oatmeal + Whey Protein?
A meal replacement.
Of all the categories, this would be the most appropriate to define this supplement.
It is, as the name implies, a combination of Oats and Whey protein, and we will now analyze whether or not the combination was well made.
Note
We have a partnership with the Prozis brand.
That said, this partnership does not influence the analyzes made on the website, since we limit ourselves to assess the facts contained in the nutritional table and ingredients of each product.
Impartiality is the priority in all analyzes.
This partnership allows us to have some benefits not only for us but also for those who visit the site.
Until March 4th when using the code GVIRTUAL at checkout you get 10% of direct discount on your order here, and you still receive some offers.
On orders over 45? you receive a 400g pack of Oatmeal + Whey Protein.
On orders over 50? you receive a 400g pack of Oatmeal + Whey Protein and a pack of Maple Syrup Zero.
Finally, on orders over 55? in addition to Oatmeal + Whey Protein and Maple Syrup Zero, you also receive a packet of Peanut Butter with pieces of nuts.
We no longer work with Prozis, so the text above is only for reference.
As for the analysis of the product, obviously, they remain.
Ingredients
The flavor chosen for the analysis was peanut butter, and the ingredients vary according to the flavor, as you would expect.
In this case, this supplement is basically composed of two ingredients.
It is not difficult to guess what they are.
The main ingredient is the whole powdered oats, which makes up 73% of this product.
The second ingredient is protein Concentrated Whey, which represents 25% of the composition of this supplement.
This gives a total of 98% in which the remaining 2% is filled with flavorings, dyes and digestive enzymes (100mg).
In terms of ingredients, the formula is simple and apparently of quality.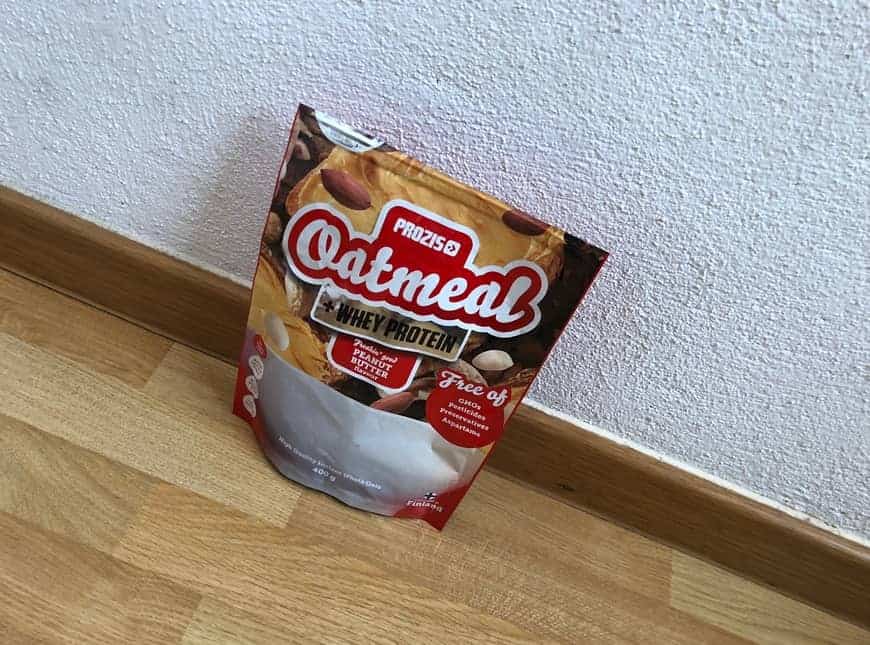 Nutritional value
You already know the ingredients, but now the most important part is missing. Nutritional values.
| | | |
| --- | --- | --- |
| | Dose | 100g |
| Calories | 302 Kcal | 377 Kcal |
| Carbohydrates | 34.4g | 43% |
| Proteins | 24.8g | 31% |
| Fats | 5.9g | 7.4% |
First of all, according to Prozis, one dose corresponds to 80g of the product.
Now, moving on to what matters.
As you can see, the values are quite balanced, with each serving providing you with 34g of carbohydrates, with 24.8g of proteins and 5.9g of fats.
It's 302 Kcal with an interesting macronutrient ratio, which can be included in a diet for muscle mass gain, fat loss or any other goal.
It is a versatile nutritional supplement.
It also has 5.84g of fibers, that is, it is not the type of shake that after half an hour you are already hungry.
Now, as we like to go into detail, we decided to analyze a small detail.
Oats vs Whey
Oats are a cereal with a reasonable dose of protein, although of lesser quality compared to Whey protein.
So, how much of that protein is Whey Concentrate and how much is Oats?
Bearing in mind that there is no aminogram, we decided to investigate this small detail, to know what type of Whey is used in Prozis Oatmeal + Whey Protein.
Is it quality?
Looking at the ingredients and nutritional values, we did the math.
The answer?
Yes, apparently the whey used in this product is good and not low quality whey.
It is Whey with a concentration of approximately 84% and which provides 21% of the 31% of protein in this supplement.
At the level of carbohydrates, it contributes only 2.9% and at the level of fats 1.9%.
In other words, 10% of the protein in this product comes from whole oats, while the remaining 21% are concentrated whey.
Unfortunately there is no aminogram, so we cannot evaluate much more.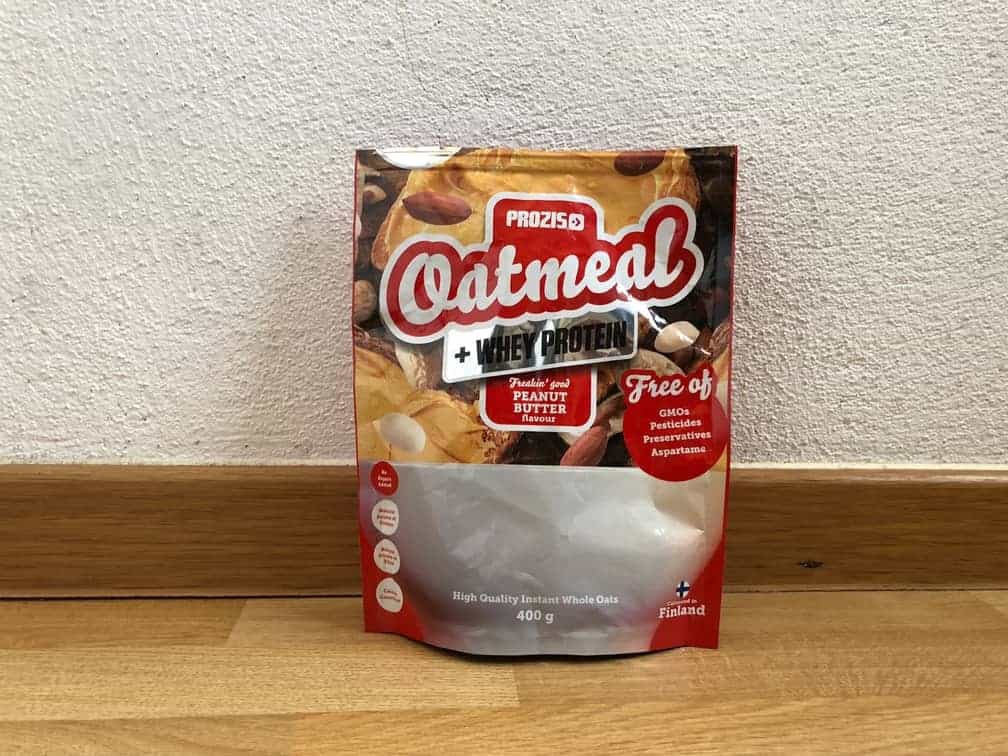 Now that you know this supplement at a nutritional level, an important point is missing. The price.
| | | | |
| --- | --- | --- | --- |
| | 400g | 1kg | 2kg |
| Doses | 5 | 12.5 | 25 |
| Cost Per Serving | 1.20 ? | 0.96 ? | 0.92 ? |
| Total cost | 5.99 ? | 11.99 ? | 22.98 ? |
Prozis Oatmeal + Whey Protein is available in three sizes as you can see in the table.
The cost per dose is 1.20? in the smallest format and between 0.96? at 0.92? in the following sizes.
What about these values? Is it expensive or cheap?
As was said at the beginning, this supplement is slightly different from what has been analyzed so far on the website, and therefore, it is difficult to put it in perspective.
We usually put several supplements of the same kind side by side for comparison.
In this case it is not possible.
A meal with good nutritional values for less than 1? it's a good price.
But, taking into account that this supplement is basically composed of two ingredients (98%), we calculated what the approximate value would have been if these two products had been purchased individually.
To do this, we used the values of the Real Whey of the same brand and Integral Oat powder as well. Both in flavored format and with prices at the time of analysis on the Prozis website.
The result?
Approximately 10.08? in 1kg format.
The value of 25% of 1kg of flavored Real Whey is 4.25?.
The value of 73% of 1.25kg of Flavored Whole Oat Powder is 5.83?.
Attention, this is just a simulation, but you can get an idea of the cost of the ingredients on an individual level to achieve a similar nutritional value.
In summary, looking at the supplement as a meal replacement, the price is appealing and the difference is not much for the individual price.
Verdict
Prozis Oatmeal + Whey Protein is a supplement that can be used in several ways.
It is also a product with balanced values, both in terms of nutrition and cost.
Is required? Do not.
There are no mandatory supplements.
However, it is a good supplement.
It is a good supplement because it is practical, because it combines good nutritional values and because it fits easily into any diet and (almost) any situation.
It is the ideal type of supplement for that day when you didn't hear the alarm clock and you don't have time to prepare a quality meal.
The type of supplement that will allow you to add quality calories if you want to gain weight, or eat a nutritious meal if your goal is to lose or even maintain your current weight.
It is also the type of supplement that allows you, if you have the skills, to make tasty recipes and at the same time with good nutritional values.
Basically, it is a product that can be used in many situations, without your diet suffering from it. On the contrary.
Have you used Oatmeal + Whey Protein? What did you think?
Leave your opinion in the comments below!