Interview with Men's Phyique athlete, Luis Postiga.
Name: Luis Postiga
Age: 24 years
Height: 1.68m
Weight: 83 kg
1st place in Open SL Nutrition ? Mens Physique 2013
How and why did you start training?
I started training as a complement to the sport I was doing at the time, Football, but soon it went on to complement the main one.
I fell in love quickly and after 6 months I was thinking about training better, eating better and having a better body.
It was a gradual evolution, and I started to realize that this was really the lifestyle I wanted for me.
I am a person of challenges and there is no better challenge than being better than ourselves day after day.
What kind of food do you follow?
I try to have a 'clean' diet throughout the year, controlling and changing the amounts of macronutrients I eat, depending on my goals.
I'm an apologist for solid meals and five of my six meals must have meat.
I don't consider a protein shake a meal for example, at least for me it doesn't give me any feeling of satiety.
I also try to bet on fat throughout the year, from dried fruits to coconut oil and peanut butter.
Especially when the intake of hydrates is lower or when I need a slower absorption.
Out of season I usually have a 'junk' meal, not having a fixed day, but when I really feel like it.
Diet.
Meal 1: 200 Grams of Beef, Broccoli and Peanut Butter
Meal 2: 300 ml of Egg Whites, 150 Grams of Rice
Meal 3: 200 Grams of Chicken Breast, 150 Grams of Potato and Broccoli
Meal 4: 2 cans of tuna and 200 grams of dough
Meal 5: 200 Grams of Chicken Breast, 150 Grams of Potato and Broccoli
Meal 6: 100 Grams of Beef, 200 ml of Egg Whites and Peanut Butter
Three liters of water a day.
What kind of training do you follow?
It depends once again on the stage you are in.
In my preparation I have weeks of strength, where the load goes up a lot and the repetitions go down considerably, and weeks of hypertrophy, in which I worry more about the quality of the movement and the cadences than about putting on weight, as it would only distort the process of training.
Personally I really like to train hard, as long as the movement is controlled.
It doesn't make any sense to put on weight and not be able to perform the movement in the slightest correct way.
Unfortunately, many people do not evolve physically because they have not yet realized that in order to have muscle hypertrophy, it is necessary that the contraction time be long.
In the weeks before the competition my training changes drastically.
I include functional training in 2 of my 6 weekly workouts, circuit training with lower loads and no rest times, and I bet a lot on working muscle groups in a compound or superset way.
I increase aerobic training, and also reinforce abdominal training, mainly exercises that strengthen the entire ?core? zone.
What are the main differences when you want to gain weight and when you want to lose fat?
In terms of food, the main difference is related to the amount of carbohydrates I eat, and proportionally the amount of protein and fat.
In terms of training, several variables change.
The speed of execution of the movements, the rest time, the time spent on cardio, the type of exercises. Anyway, almost everything.
Where does your motivation come from?
As I mentioned before, I am a person of challenges and there is no sport more complete and challenging than this one.
It's not just the time you spend at the gym, but also what you eat, what you drink, how much time you sleep. All this has a huge influence on your body.
My motivation is directly linked to my goals in competitive terms.
On those days when I'm down, I slept badly, I don't feel like training, I have to eat without feeling like it, I always ask myself two questions:
How would I feel if I went up on stage and didn't present myself in good condition, knowing that I could have done more… would I know how to handle it?
The answer is no, and that's what motivates me to try to be better.
And secondly, I wonder if it's worth so much effort and sacrifice, for a sport that has little return in Portugal, and the answer is clearly yes, because the sensations you experience in a competition are addictive, and seeing your body change it gives you a sense of control that is fascinating.
Our body is clearly a reflection of what we do.
What supplements do you use?
In general:
Any tips in particular for those just starting out?
The main thing for those who are starting now is to be aware that this sport is a 24-hour sport.
It is necessary to set long-term goals, so as not to get discouraged, to train well, with a correct posture, to eat the best possible food, not to believe in ?magic? and "quick miracles" but in a lot of effort, dedication, deprivation, always having the notion that in the end it will be worth it.
As you see your body change you will feel better, with more self-esteem, more disciplined and that is the way to go.
A tip that I leave you, and this is one of the most basic principles and that distinguishes you from liking this sport or not, is, avoid comparisons.
Avoid devaluing the work and effort of others, because at the end of the day this is a path that only you can take.
Each one does what he wants with his body and what is beautiful for us may not be for others, and the fundamental thing is to respect even if you don't understand.
Do it for yourself and not for others.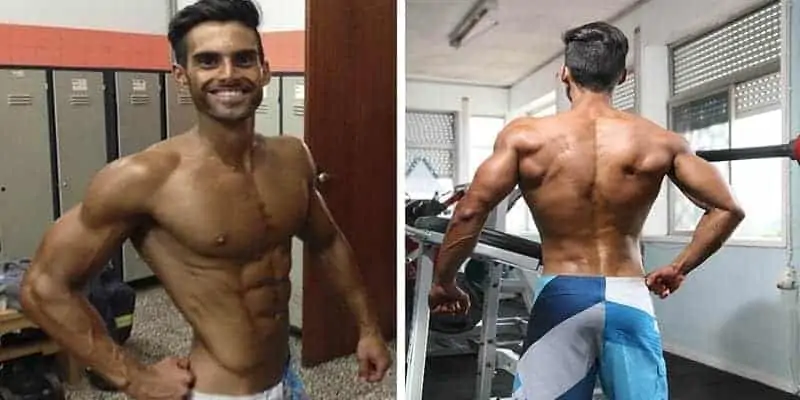 I would like to mention some people who were and are important in my journey as an athlete, because despite being an individual sport, those who do not have a good support base will certainly have more difficulties.
Fortunately, having entered this environment allowed me to meet fantastic people, and this thanks goes to them, Cláudio Henriques, João Marques, Nuno Pinto and Gabriel Matos (it has been an incredible support), my ?brothers? from Sesimbra, the land where I was born and started training.
João Campos, was fundamental in my preparation, a huge athlete and a fantastic human being (I take this opportunity to reveal that he will be my trainer for the National Championship).
Olavo Ferreira and Tânia Dias, to whom I wish all the success in the world. A special hug to ?malta? from the north, Ricardo, Luis, Marco.
Thanks also to Luis and Vanessa Cunha who were the first people to believe in me. And of course to my family and girlfriend for all their support and patience.
To all my friends? on facebook a special thanks for following and reinforcing your support, sometimes it makes all the difference.
I would also like to invite you to come train at the Gym where I am an instructor , the Gym Bestshape, located in Cruz de Pau, a unique space of choice.
https://www.facebook.com/LuisCondePostiga
https://www.facebook.com/ginasio.bestshape