Nutrition
Nutritional table
A nutritional table with the values ​​for the most common foods in diets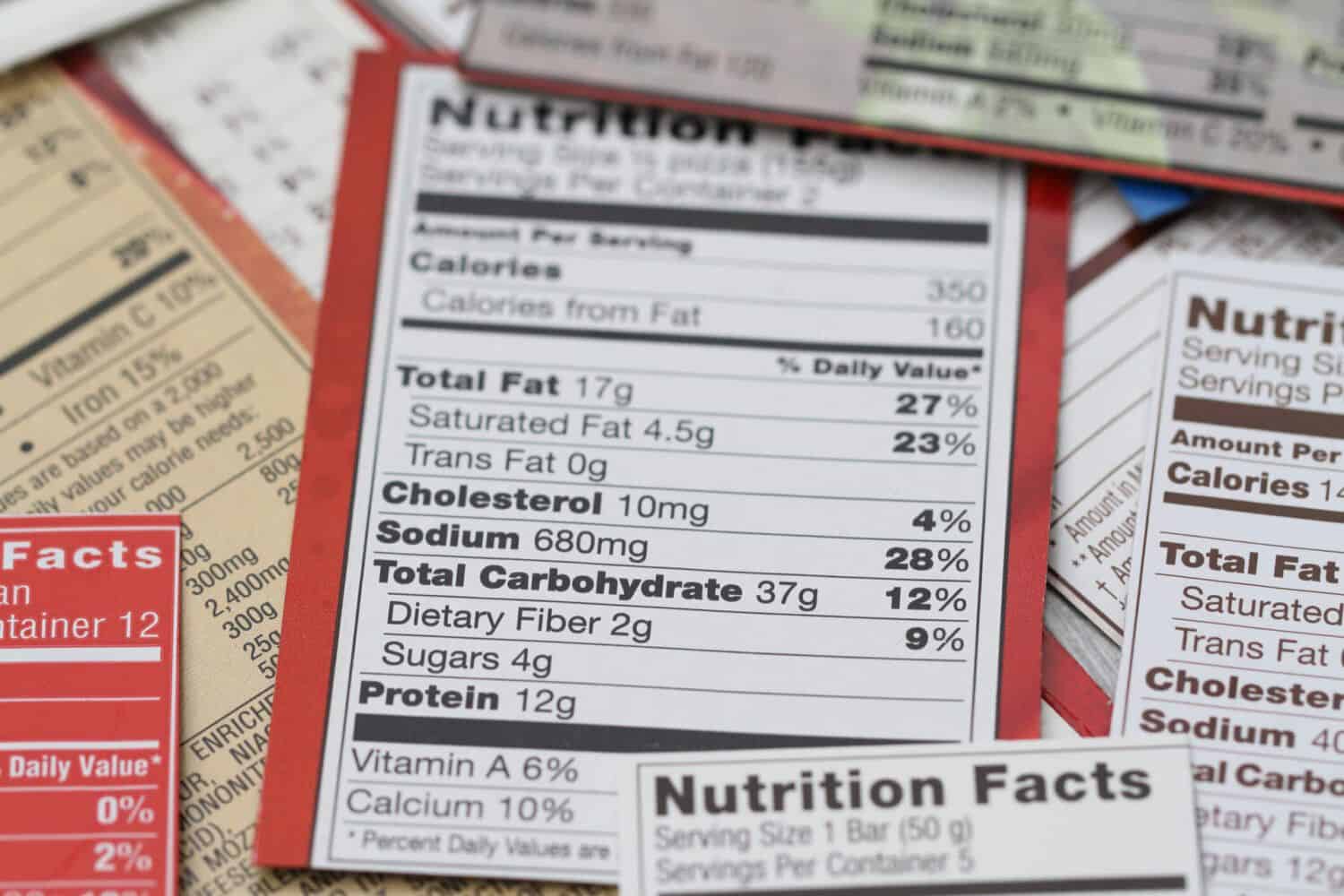 To build your diet, it is important to know the nutritional values ​​of foods.
In this nutritional table you will find the amount of each macronutrient per food, and also the number of Calories.
All values ​​are presented raw, ie values ​​are for 100g of each food before cooking.
These are only approximate values, ideally guided by the label as there are always variations from product to product.
Nutritional table
| | | | | | |
| --- | --- | --- | --- | --- | --- |
| Food / 100g | Calories | Hydrates | Protein | Fat | Fiber |
| Oat flakes | 390 | 66 | 16 | 7 | 10 |
| Rice | 370 | 82 | 7 | 1 | 3 |
| Whole Rice | 370 | 77 | 8 | 3 | 4 |
| Spaghetti | 358 | 71 | 12 | 2 | 5 |
| Black bean | 341 | 62 | 22 | 1 | 15 |
| Butter bean | 275 | 43 | 22 | 1 | 23 |
| Friar Beans | 329 | 55 | 23 | 1 | 9 |
| White bean | 277 | 44 | 21 | 1 | 23 |
| Sweet potato | 86 | 20 | 2 | 0 | 3 |
| Potato Chips | 77 | 18 | 2 | 0 | 2 |
| White bread | 266 | 51 | 8 | 3 | 2 |
| Whole grain bread | 247 | 41 | 13 | 3 | 7 |
| Egg (L) | 69 | 0 | 6 | 5 | 0 |
| Chest Skinless Chicken | 110 | 0 | 23 | 1 | 0 |
| Turkey breast without skin | 111 | 0 | 25 | 1 | 0 |
| Wheat Flakes | 360 | 69 | 14 | 2,5 | 9 |
| Peas | 306 | 49 | 23 | 1 | 15 |
| Lentils | 303 | 48 | 25 | 1 | 12 |
| Grain | 332 | 51 | 19 | 5 | 14 |
| Soybean | 378 | 18 | 33 | 19 | 14 |
| Tuna | 140 | 0 | 24 | 5 | 0 |
| Codfish | 76 | 0 | 18 | 1 | 0 |
| Bacon | 367 | 0 | 14 | 35 | 0 |
| Lamb Chop | 124 | 0 | 20 | 5 | 0 |
| Shrimp | 77 | 0 | 18 | 1 | 0 |
| Horse mackerel | 105 | 0 | 20 | 3 | 0 |
| Mackerel | 202 | 0 | 20 | 13 | 0 |
| Choco | 79 | 0 | 19 | 0 | 0 |
| Rabbit | 117 | 0 | 20 | 4 | 0 |
| Golden | 167 | 0 | 20 | 10 | 0 |
| Swordfish | 97 | 0 | 18 | 3 | 0 |
| Chicken leg without skin | 111 | 0 | 22 | 3 | 0 |
| Beef Burger | 142 | 0 | 20 | 7 | 0 |
| Squid | 71 | 0 | 16 | 1 | 0 |
| Skinless Duck | 133 | 0 | 19 | 6 | 0 |
| Black sword fish | 88 | 0 | 16 | 3 | 0 |
| White Sword Fish | 117 | 0 | 20 | 4 | 0 |
| Partridge | 104 | 0 | 23 | 1 | 0 |
| Hake | 75 | 0 | 17 | 1 | 0 |
| Octopus | 73 | 0 | 16 | 1 | 0 |
| Spare Ribs Pig | 190 | 0 | 20 | 12 | 0 |
| Pork Loin | 131 | 0 | 22 | 5 | 0 |
| Ham | 215 | 0 | 25 | 13 | 0 |
| Raia | 58 | 0 | 14 | 0 | 0 |
| Snook fish | 145 | 0 | 19 | 8 | 0 |
| Salmon | 208 | 0 | 20 | 13 | 0 |
| Sardine | 158 | 0 | 19 | 9 | 0 |
| Plaice | 90 | 0 | 19 | 2 | 0 |
| Cow Rump | 122 | 0 | 21 | 5 | 0 |
| Beef Loin | 114 | 0 | 21 | 3 | 0 |
| Veal cutlet | 120 | 0 | 20 | 5 | 0 |
| Veal, Loin | 148 | 0 | 20 | 8 | 0 |
| Calf, Chest | 147 | 0 | 20 | 8 | 0 |
| Skinny Natural Yogurt | 42 | 5 | 4 | 0 | 0 |
| Light milk | 34 | 3 | 5 | 0 | 0 |
| Semi Fat Milk | 47 | 3 | 5 | 2 | 0 |
| Fat milk | 62 | 3 | 5 | 4 | 0 |
| Olive oil | 900 | 0 | 0 | 100 | 0 |
| Butter | 750 | 1 | 0 | 83 | 0 |
| Cooking oil | 896 | 0 | 0 | 99 | 0 |
| Avocado | 108 | 2 | 1 | 11 | 3 |
| Peanut | 571 | 10 | 25 | 48 | 9 |
| Ananas | 44 | 10 | 1 | 0 | 1 |
| Hazelnut | 677 | 6 | 14 | 66 | 6 |
| Olive | 172 | 0 | 1 | 19 | 4 |
| Banana | 95 | 22 | 2 | 0 | 3 |
| Nuts | 185 | 40 | 3 | 1 | 6 |
| Cherry | 60 | 13 | 1 | 1 | 2 |
| Kiwi | 53 | 11 | 1 | 1 | 2 |
| Raspberry | 34 | 5 | 1 | 1 | 7 |
| Orange | 42 | 9 | 1 | 0 | 2 |
| Apple | 57 | 13 | 0 | 0 | 2 |
| Beam | 52 | 12 | 0 | 0 | 3 |
| Watermelon | 24 | 6 | 0 | 0 | 0 |
| Melon | 20 | 4 | 1 | 0 | 1 |
| Strawberry | 29 | 5 | 1 | 0 | 2 |
| Noz | 689 | 4 | 17 | 68 | 5 |
| Wait | 41 | 9 | 0 | 0 | 2 |
| Peach | 38 | 8 | 1 | 0 | 2 |