After some time without publications, it was time to return. And the return is obviously with a analyze.
If in the last Oatmeal + Whey it was considered a little different from what we have done so far, this time then it is a first.
Prozis Easy and Fitsy is not a supplement, but it can be useful for those who walk in the gym.
What is it then?
Easy and Fitsy is a set of ready-to-eat meals created by Prozis.
Solid food, cooked by the Prozis team, frozen and transported (in its own vehicle) to you.
It is not for everyone, but it can prove to be an asset for many.
From that day when you don't feel like cooking, even those who want a healthy and nutritious meal at work. The options are many.
Now, although all of this seems very interesting, is it worth it?
We tried four of the various meals available and here is an analysis of each, and a more general analysis at the end.
Note
We have a partnership with the Prozis brand and these products were offered to us for testing.
That said, this partnership does not influence the analyzes made on the website, since we limit ourselves to assess the facts contained in the nutritional table, ingredients of each product and in this case also the taste, which is subjective and should be seen as such.
Impartiality is the priority in all analyzes.
This partnership allows us to have some benefits not only for us but also for you who visit the site.
When you use the code GVIRTUAL at checkout you automatically get 10% direct discount on your order.
The partnership with Prozis no longer exists, however, the analysis remains as it was published.
Roasted Pork Loin
To begin, let's look at the roast pork loin meal.
It is accompanied by cooked basmati rice, grilled courgette and corn. In total, the meal consists of 400g in which the pork loin makes up approximately 150g (~ 145g) of the total weight.
There are typical spices in each meal to add flavor, in this case, ingredients such as onion, olive oil or garlic.
However, there are no unusual ingredients, and no preservatives or additives are even used.
It is the typical meal cooked at home, if you are good at it, or a more tasty meal if not the case.
That said, let's look at the nutritional table.
Nutritional value
| | |
| --- | --- |
| | 400g |
| Calories | 599 Kcal |
| Proteins | 53g |
| Carbohydrates | 46g |
| Lipids | 20g |
Each meal of these has basically 600 Kcal.
It is the ideal type of meal for a good lunch and / or dinner, with balanced values that will leave you full.
Obviously creating a meal that serves the needs of all people who practice sports is impossible, and this is no exception.
Of all the meals evaluated here, this is the only one that does not have the option of selecting the size, however, it has a version for women, which has only 367 Kcal and the same ingredients.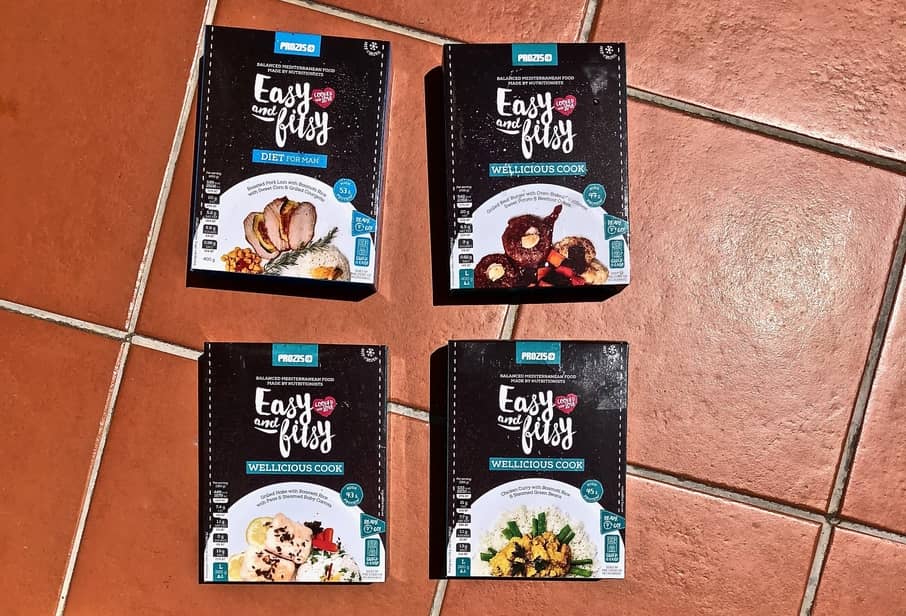 But, what about the taste?
Flavor is the type of area that we don't normally evaluate, as it is extremely subjective.
Manuel's favorite dish may be Joana's most hated food.
That said, if you think that this type of product will be useful to you, the taste will hardly be an obstacle.
Is nice.
It is the meal that someone who knows how to cook at least left in the freezer for you to eat.
Now, obviously it is not the meal that you will be served in a luxury restaurant as you should calculate.
Price
Finally, the price.
At the time of analysis, this meal costs 4.49 euros.
Unlike proteins, we do not have any similar product to serve as a comparison, but putting it in a lunch / dinner context the price can be considered appealing.
It is worth it?
It is the type of question that only you can answer, according to the use you intend to give it and your availability.
In terms of quality, yes.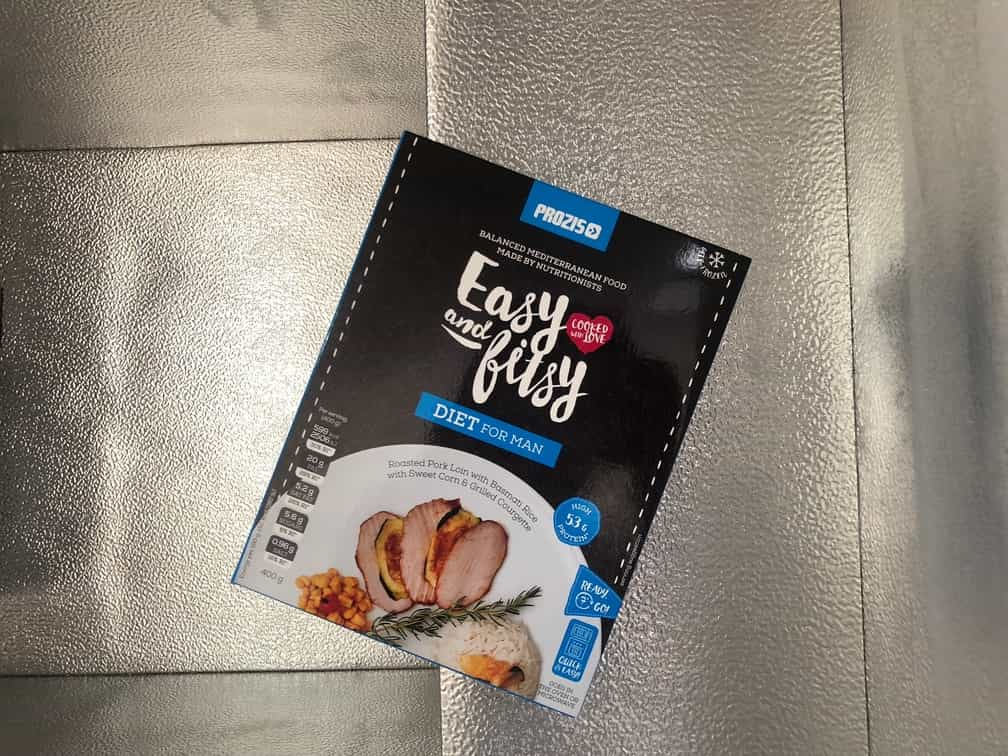 Grilled Beef Burger
After the pork loin, we now move on to the hamburgers.
In this case, cow burger.
Unlike the loin, here you can choose between three different sizes: M, L and XL.
This is great, as you can customize the meal a little more according to your diet.
It changes the quantity of food but also the price.
The ingredients are the same between sizes, and with the meat you have cauliflower, beets, sweet potatoes and potatoes.
As in the case of pork loin, and in fact, of all the evaluated meals, there are no unwanted ingredients, and apart from the main ones, you only have spices for a pleasant meal.
Below is the nutritional table with prices already included.
Nutritional Value and Price
| | | | |
| --- | --- | --- | --- |
| | M | L | XL |
| Calories | 406 Kcal | 542 Kcal | 673 Kcal |
| Proteins | 33g | 47g | 61g |
| Carbohydrates | 35g | 41g | 46g |
| Lipids | 14g | 20g | 26g |
| The amount | 300g | 400g | 500g |
| Price | 3.99 ? | 4.49 ? | 4.99 ? |
As you can see from the table, meals range from 400 kcal to around 700 kcal.
The macronutrient values are balanced, and with the possibility to choose between three sizes, it becomes easier to adapt to your current goal.
If you are looking to lose weight, possibly the M will be the best bet, while if you want to gain muscle mass or have a very physically demanding day to day, you can also find the solution in size L or XL.
The prices shown are those charged at the time of the analysis and do not include any codes or promotions.
For what it is, they seem quite acceptable prices, and given that you can easily get 10% off, it is closer to appealing than prohibitive.
Flavor
What about the taste? It's good?
Once again, the taste is very subjective, but here is an opinion from those who have already tasted it.
The hamburger is good. For the price, it's quite nice. As for the rest, overall, it's average. Cauliflower doesn't taste bad but is far from impressive, beets are nothing special, while sweet potatoes and potatoes are nice.
Again, the taste is very personal, and you may find the opposite.
Overall it's nice, especially the hamburger, but don't expect a Michelin-starred dish.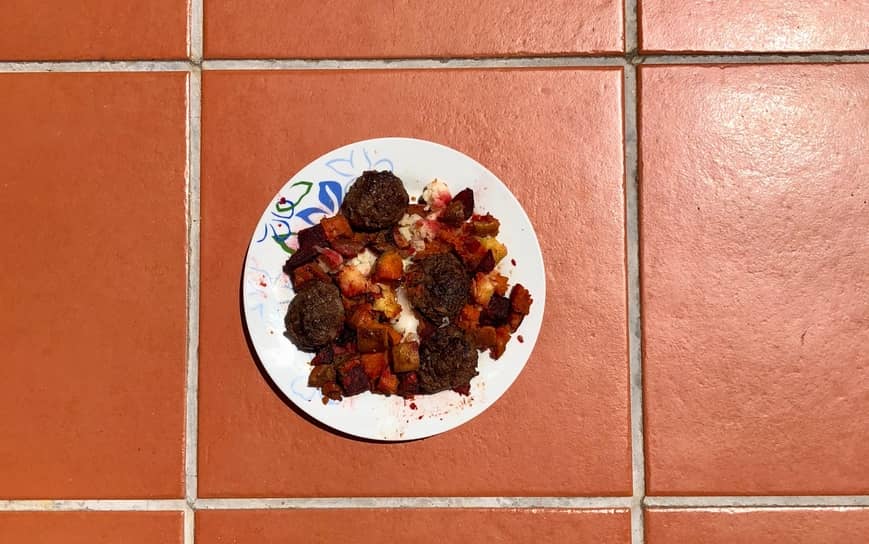 Grilled Hake Tenderloin
After two meat dishes, it was finally time to try a fish meal. The famous hake.
Here, hake is not much appreciated in terms of flavor, and is not exactly a favorite dish for many people.
However, it can be said that it was a surprise.
It is not that this product has a spectacular flavor and will become a favorite in these parts, exhaust the stock of hake from Prozis and put the species in extinction.
But given the expectations, it was ingested in a strangely pleasant way.
The ingredients are simple. Hake, basmati rice with peas and carrots. This and normal spices like lemon juice, garlic or olive oil.
Here you can also choose between three different sizes (M, L and XL) and below you will find the nutritional table and the price.
Nutritional Value and Price
| | | | |
| --- | --- | --- | --- |
| | M | L | XL |
| Calories | 302 Kcal | 449 Kcal | 602 Kcal |
| Proteins | 29g | 43g | 57g |
| Carbohydrates | 34g | 50g | 67g |
| Lipids | 5g | 7g | 10g |
| The amount | 280g | 385g | 510g |
| Price | 4.49 ? | 4.99 ? | 5.49 ? |
This is the least caloric meal of all presented here.
It is a good option especially for those looking to lose weight, although it also fits into a muscle gain diet. It all depends on your diet and how you plan it.
Good and balanced amounts of proteins and carbohydrates, with low levels of fat.
If low fat is important to you, then this is the best meal of the four.
In terms of prices, as you would expect, it is slightly higher than the values of meat dishes and is the most expensive meal in the analysis.
It does not mean that it is expensive, and even in the largest size, XL, the price can be considered affordable since we are talking about a lunch / dinner.
Defects?
Well, although the meal has a pleasant taste, here meat is still preferred.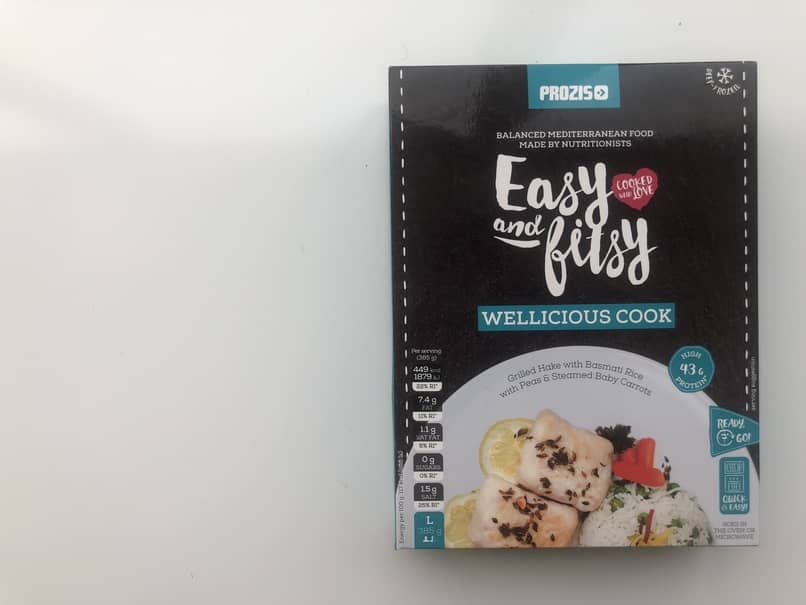 Chicken Curry
We then arrived at the last meal, and it can be said that in terms of flavor, the best was left to the end and this was the favorite.
Is it a simple dish with only three ingredients? Chicken breast, basmati rice and green beans ? plus the respective seasonings.
Simple but with good ingredients and good nutritional values for most cases.
It is also available in the three sizes of the previous meals and the nutritional values are below, along with the price.
Nutritional Value and Price
| | | | |
| --- | --- | --- | --- |
| | M | L | XL |
| Calories | 361 Kcal | 533 Kcal | 721 Kcal |
| Proteins | 31g | 45g | 60g |
| Carbohydrates | 37g | 54g | 72g |
| Fats | 10g | 15g | 20g |
| The amount | 280g | 380g | 520g |
| Price | 3.99 ? | 4.49 ? | 4.99 ? |
Nutritionally, as you can see from the table, it is very similar to what has already been presented here in the meat dishes.
It is, however, the most caloric meal of the four if you choose the size XL, although in size M it becomes the second least caloric, only after hake.
This combined with the pleasant taste of the meal (for those who enjoy chicken curry) makes it one of the most interesting Easy and Fitsy dishes of the four.
If you follow a high calorie diet, the XL option will probably fit well in your diet program, however, if your diet is more focused on weight loss and reduced calories, then size M is perhaps what you are looking for.
The price is also equivalent to the rest of meat.
Good product.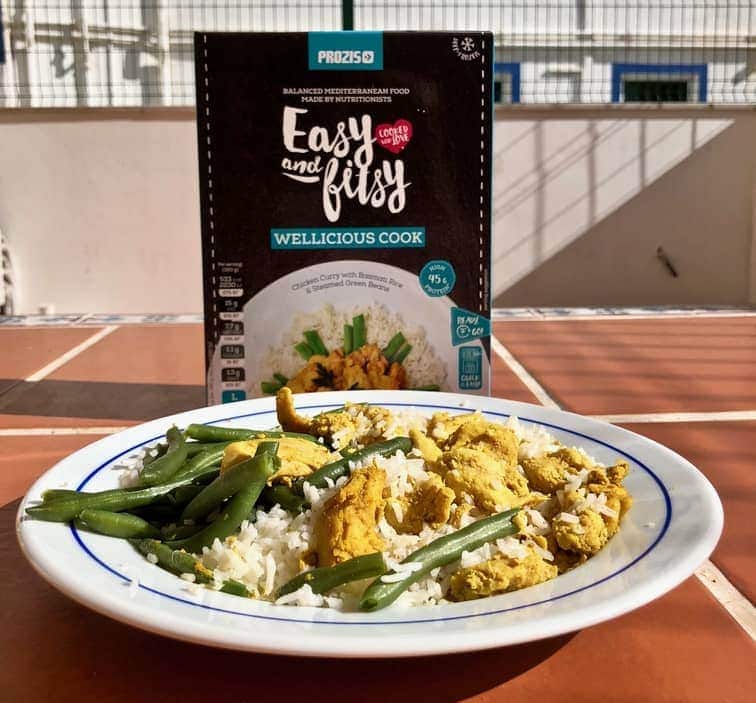 General evaluation
We usually do a more detailed analysis of the ingredients and nutritional values of what we publish on the website.
At proteins for example they often bring surprise and unwanted ingredients.
This is not the case here.
One of the most interesting points of this new concept from Prozis, Easy and Fitsy, is that meals contain only what matters. Nothing else.
Then, despite the difference in ingredients, all meals, with the slight exception of hake, are very similar in terms of macronutrients and price.
This is good and bad.
Good because the profile is balanced and, in general, fits most diets and lifestyles.
Bad because being so widespread, there are certain types of more personalized diets that will not go so well with these products.
A diet lower in carbohydrates, but high in protein, may not find the best solution here.
An option to exchange carbohydrates for vegetables for example would please some, or simply a version of certain dishes more adapted to this concept.
Above all, Prozis seeks to provide meals for most people here, and in this respect it is successful.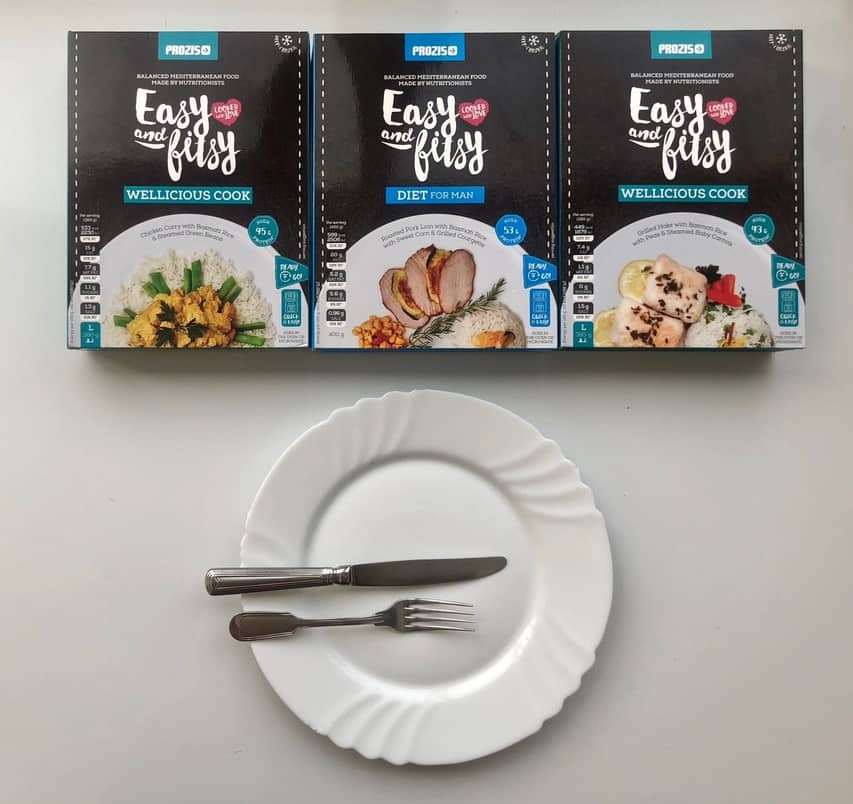 Conclusion
The concept is interesting, and although it will not interest everyone, it will certainly appeal to many.
A quality meal ready to eat, without cooking and for a price that hardly anyone will consider high when seen in the context of lunch and / or dinner.
In the end, it is a product that leaves you with no excuse for failing in the diet, and that alone makes it an asset.
If it is useful for you, only you can answer it.
In terms of quality, it is approved.
Have you used any of the Easy and Fitsy meals from Prozis?
Leave your opinion in the comments below.