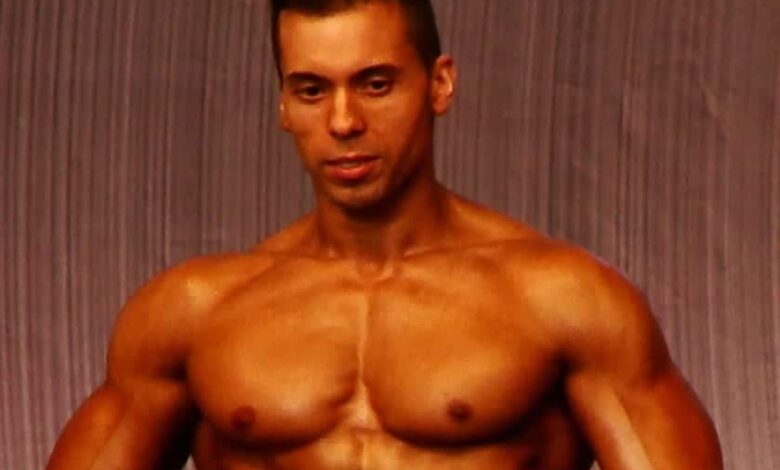 Interview with Men's Physique athlete, Sérgio Costa.
Name: Sérgio Costa
Age: 32 years
Height: 1,82 m
Weight: 95 kg
5th place in the Men's Physique Portugal Cup
How and why did you start training?
Since I was a kid, I have always been very connected to sport and practiced the most diverse federative modalities, from football, through basketball to table tennis.
Later, and after a knee injury, which took me to an operating table and forced me to stop for several months, I ended up putting these sports practices aside and the sedentary lifestyle made him gain a lot of weight.
Then the gymnasium and the need to return to a healthier way of life as I always felt very tired on a physical level.
At first it was very complicated for me, and I even signed up several times without being able to follow a training plan 1 month.
I was not used to that type of routine, until my brother Tiago, who already practiced weight training, and I was lucky to have found Américo in the gym at that time, an excellent person, who became my training partner and a of my best friends, who encouraged me and made me fall in love with iron and this way of life for almost 10 years.
What kind of food do you follow?
I follow the type of food that is as clean as possible based on white meats, fish, vegetables, sweet potatoes, oats, etc., with the respective garbage day where I eat a non-standard meal there, I run away for example for a pizza or respective francesinha, if it weren't for me from the North.
When I want to increase weight I increase the intake of carbohydrates and healthy fat, and when I want to lose fat the big difference is the increase in training cardio.
1 Meal: Oat Pancake with Egg Whites, Cinnamon and Multivitamin
2 Meal: Brown Bread with Natural Tuna and Egg Whites
3 Meal: Turkey or Chicken with Vegetables and Rice or Sweet Potato
4 Meal: Smoothie Whey or Chicken with Rice Rusks and Piece of Fruit
Meal 5 (Pre workout): Oat smoothie with egg whites, grapes, raisins and cinnamon
After training: Whey Smoothie
6 Meal: Fish with Sweet Potato or Rice and Vegetables
7 Meal: Beef with Vegetables, Peanuts and Multivitamin
What kind of training do you follow?

I usually do training hypertrophy muscle 5 to 6 days a week.
I am a supporter of heavy loads with sets of 8 to 12, aiming to keep the posture as correct as possible.
I am not an example for anyone to train in their perfect execution, but it motivates and challenges me to always go beyond what I am used to raising in the last series. It is not about ego but personal motivation.
Workout A - Lumbar and Abdominal Breasts
Inclined Chest Press with Dumbbells 12-10-8
Flat Open Chest 12-10-8
Flat Bench Chest 12-10-8
Cross-Over Chest 12-12-12
Declined Open Chest 12-12-12
Lumbar Bench with Load 12-12-10-10
Sit-ups
Workout B - Legs and Twins
Legs Unilateral Extender 12-10-8
Press Legs 12-10-8
Legs Squat 12-10-8
Legs Lunges 12-10-8
Legs Squat between Steps 12-10-8
Partial Twins at Multipower 12-12-12
Twins in the Machine 15-15-15
Workout C - Trapezius Shoulder and Abdominals
Shoulders Press Nape Multipower 12-10-10-8
Shoulders Press with Dumbbells 12-10-8
Side Shoulders 12-10-8
Military Press Shoulders 12-10-8
Back Shoulders with Rope 12-10-8
Trapeze Shrinkage at Multipower 12-12-12
Trapezoid Dumbbell Shrinkage 15-15-15
Sit-ups
Workout D - Dorsal and Lumbar
Backstroke with Olympic Bar 12-10-10-8
Back Closed High Handle 12-10-8
Back Row T 12-10-8
Deadweight Back 12-10-8
Back Elevations 12-12-12
Lumbar Bench without Load 15-15-15
Workout E - Legs and Twins
Flexora legs standing 12-10-10-8
Legs Inverted Press Multipower 12-10-8
Romanian Dead Weight Legs 12-10-8
Legs Flexora Machine 12-12-12
Press Legs 12-10-8
Twins Plantar Flexion with Step Multipower 12-12-12
Gemini Press 12-12-12
Unilateral Twins with Step 12-12-12
Sit-ups
Workout F - Biceps Triceps and Forearm
Biceps Seated Curl with Rotation 12-10-10-8
Triceps Unilateral French Press 12-10-10-8
Biceps Curl with Z Bar 10-8-8
Triceps Press Closed on Multipower 10-8-8
Scott Bench Biceps with Hammer Grip 10-8-8
Triceps Extension with Wide Handle 10-8-8
Inverted Curl Forearm 12-10-8
Forearm Wrist Flexion with Bench on Bench 12-12-12-12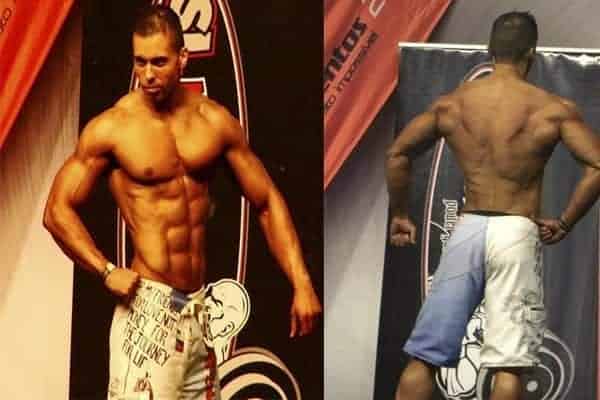 Where does your motivation come from?
My daily motivation comes from my way of being and facing life, I try to do my best in everything I do.
What supplements do you use?
Those that financial availability allows :)
I usually use Whey and vitamins supplementing many times with BCAAs e pre training, but without a doubt the biggest slice is in the diet.
If you have money first, spend it in the supermarket, if you have any left ... think about supplements;)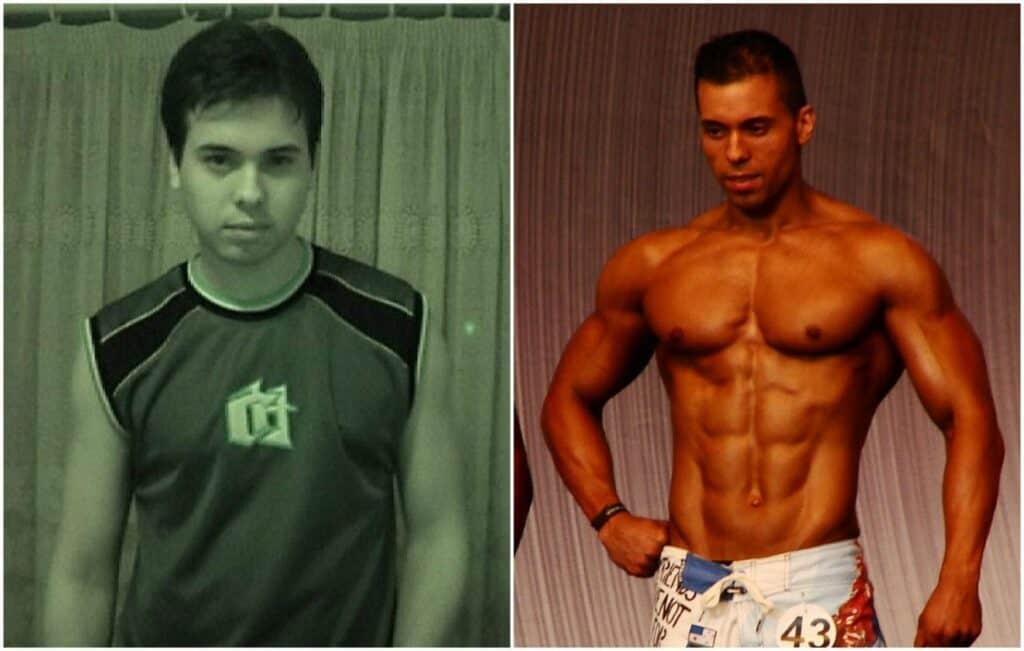 Any particular tips for newcomers?
The main thing… Patience, a lot of patience because the resultados do not appear overnight.
Remember that from the moment you enter the gym you are there to train, there are no results without diet or magical crossings without hard work.
Sergio's video training
I want to give a special thanks to my better half Agnieszka, who has this same passion and is also an IFBB athlete, and without it it would be much more difficult to win my fifth place in the Portuguese Cup.
To my trainer Hugo Silva who was tireless in my preparation, to my friend Marco Imperatore always available with a word of support and motivation "we are together", to my training partner Fabio Santos who suffers like me from the daily struggles of another training session, to everyone at the PerfectForm Gymnasium, friends, acquaintances, staff, for all the support and friendship and especially Paulo Fonseca, Carlos Deus and Andre for all the support on the day of the race.
If everything goes as planned, in April I hope to be playing the National Mens Physique Championship 2014.
Good training for everyone.