Olimp Creatine Xplode is a supplement from the Olimp Sport Nutrition brand, and is basically a blend of several Creatines in one supplement.
It has a so-called Matrix 6 Strong Blend, which contain 6 different types of Creatine, and the only active ingredient besides this matrix is Taurine.
It is available in various flavors and in the 500g format, only.
Each dose consists of 5g and you will find here the nutritional information presented on the official website of Olimp Sport Nutrition.
Matrix 6 Strong Blend
The ingredients in Olimp Creatine Xplode are almost all found in this matrix, except for Taurine.
There are six different types of Creatine.
Creatine Malate
Creatine Ethyl Ester
Creatine Magnesium Chelate
AKG Creatine
Creatine Pyruvate
Creatine Citrate
The mark does not indicate the dose used for each type of Creatine, but it is in this order that it is presented in the list of ingredients, which in theory corresponds to the order of the most used to the least used.
What immediately stands out is the brand's option of not using the famous and most studied Creatine in the form of monohydrate.
If, on the one hand, it is more than proven that Creatine Monohydrate works, on the other hand, no study has yet been presented that demonstrates the superiority of any other type of Creatine in relation to the old monohydrate.
This makes it difficult to justify spending more money on other types of Creatine, when in theory there will be no major benefits.
We could talk here about the six different types of Creatine used in Olimp Creatine Xplode, but we will choose to speak only in one of the types, and if you want to know more about the others, take a look here in our complete guide on Creatine.
Creatine Ethyl Ester
The type of Creatine we are going to talk about is Creatine Ethyl Ester.
While the other five types of Creatine in this formula are very equivalent to Creatine Monohydrate, the same cannot be said of Creatine Ethyl Ester.
Creatine Ethyl Ester is not only superior to monohydrate, it is actually inferior.
This study compared these two types of Creatine, and the conclusion was as follows:
In conclusion, when compared to Creatine Monohydrate, Creatine Ethyl Ester was not as effective in increasing Creatine levels in muscle, or in improving body composition, muscle mass and strength.
So it is a type of Creatine to avoid.
In addition to the various types of Creatine, this formula also has Taurine.
Taurine is an amino acid, which may have modest benefits, and is present in a dose of 500mg per dose, which, although not low, is unlikely to have any impact.
It is therefore a mixture of several Creatines, with a little Taurine.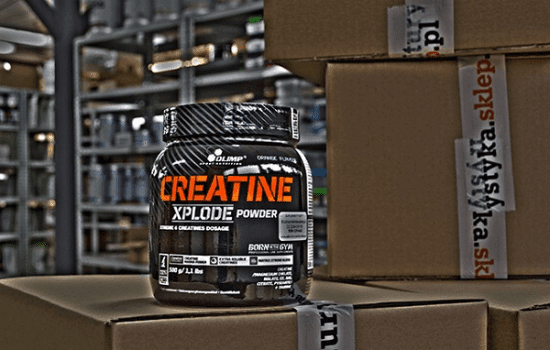 How to take?
According to the brand the mode of taking is one dose per day, only.
There are those who are adept at the loading phase with this type of supplementation, although it is not mandatory, only leading to faster results in the initial phase.
In the loading phase, 20 grams are used for five days, and then the normal dose is changed.
The most common dose is usually 5g, however, if you are very thin 3g to 4g is enough to get good results, while if you are heavier, you can use 6g.
The brand recommends only one dose, which means only 3.6g of Creatine per day.
If you want to use the classic 5g dose, you need 6.8g of this supplement.
It is important to highlight, supplementation is done every day, that is, nothing to take only on training days.
Where to buy?
You find this supplement available here, and using the code GVIRTUAL you are also entitled to a discount.
Olimp Creatine Xplode review
Although a Creatine mix is not necessarily bad, especially when it doesn't influence the price too much, it is important to take into account the Creatines used.
In the case of Olimp Creatine Xplode, the use of Creatine Ethyl Ester automatically makes this supplement a bad product.
As for the price, if you use the low dose recommended by the brand, it will cost you $0.20 per day, while if you prefer the common 5g dose of Creatine, the figure rises to $0.27.
For this price, or even less, you get a Creatine Creapure, which is the most effective and safest Creatine supplement on the market.
Not recommended.
If you want to know more about creatine supplementation, our guide will help to clarify all your doubts and is available here.
To consult all the analyzes to creatine supplements, go through here.
Note

The price used to make this analysis was the one charged by the Prozis store, with no promotions or discounts, and of course it can change at any time.

The price used was the following.

500g - 19,80€ (0,20€/dose)

0.27€ for each 5g of Creatine.