Analysis of Prozis Sport's Real Whey Isolate supplement
After we published the analysis of the new Real Whey in September, there were many requests for an evaluation of this version as well.
As the name implies, it is a Whey protein, but unlike the original Real Whey, this version is composed only of Isolated Whey.
In other words, a better, and also more expensive, variant of whey protein.
If you want to know more about Whey protein and its different types, take a look at our comprehensive guide this page.
The review of Prozis Real Whey was very positive as you can see here. Does the Isolated version follow the same path or just use the same name?
We can start by saying that yes, the Real Whey Isolate it is also an excellent quality protein as you will be able to confirm in this analysis.
Note
We have a partnership with the Prozis brand.
That said, this partnership does not influence the reviews made on the site, as we limit ourselves to evaluating the facts contained in each product's nutritional table, aminogram and ingredients.
That is, if the product is bad, it is bad. But if it is good, as is the case, then it will be classified as such. Impartiality is the priority in all reviews.
A good example of this is the Whey Prime.
This partnership allows us to have some benefits not only for us but also for those who visit the site.
Until the 13th of this month, when you use the code GVIRTUAL at checkout, you get a direct discount of 10% on your order here, and you also receive a shaker and 3 Zero Snack protein bars on orders over 25?.
This partnership no longer exists, this information being only a reference, and the analysis, obviously, remains the same.
Ingredients
In the Real Whey Concentrate analysis we put the data for the flavored and unflavored version.
This is because there was a difference, which, although not very significant, was there. Both nutritionally and in terms of price.
We're not going to do it with Real Whey Isolate.
This is because it is not worth it. The differences don't justify it, as they are incredibly close, so we're going to take a different approach.
We will make small references when necessary, but also small comparisons with the concentrated version to know the differences between them.
That said, we opted to look at the purest version, ie, flavorless or otherwise known as natural.
The ingredients are simple.
Isolated Whey and an emulsifier. Only.
In flavored versions you will find a few more, but few more.
In the case of strawberry flavor, this supplement is composed of 98% of Isolated Whey, where the remaining 2% is a combination of flavourings, colorings, etc. The usual ingredients used in this type of products to give the desired flavor to the shake.
That is, no tricks or spells. Just the essentials.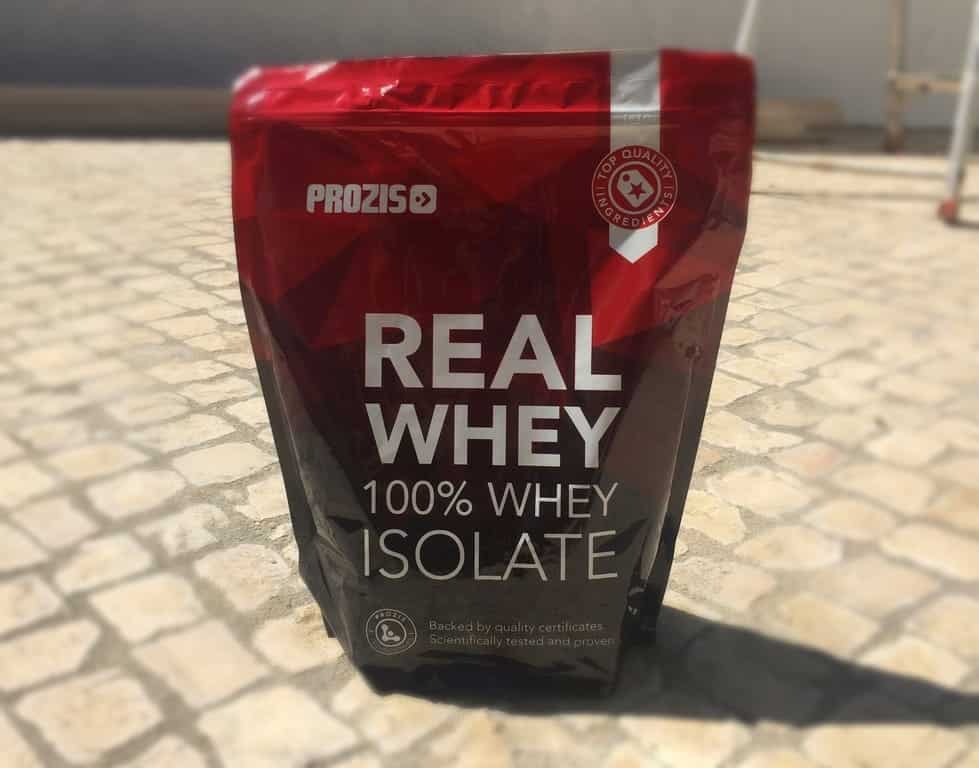 Nutritional value
Now that you know the ingredients used, the nutritional values for the flavorless version are below.
| | | |
| --- | --- | --- |
| | Dose / 25g | % |
| Proteins | 23.50g | 94% |
| Carbohydrates | 0.63g | 2.5% |
| Fats | 0g | 0% |
Looking at the table, what is immediately obvious is the protein content of this supplement.
THE Real Whey Isolate is made up of 94% of pure protein, an amazing value.
As if that wasn't enough, it is fat-free and carbohydrate levels are at 2.5%.
As you know these numbers refer to the natural/unflavored variant, but if you opt for the strawberry flavor the differences are minimal.
In the case of protein, the value drops to 93%, while carbohydrates rise to 3.5%.
Yes, in both cases the difference is 1%. Only 1%.
How does it compare to the concentrated version?
Protein. It has 10.6% more compared to the unflavored version of Real Whey Concentrate.
Carbohydrates. Here the difference is minimal, with the concentrated version presenting more 1.5%.
Fats. Real Whey concentrate has 7.5% of fat. Isolate as you have seen is grease free.
Therefore, the ingredients are approved and the nutritional value is excellent. But we still lack some things.
Aminogram
The aminogram is where often protein supplements that look promising actually turn out to be a letdown.
It's not the case.
You can consult the complete aminogram of Real Whey Isolate here.
How do you know the value of BCAA's is an excellent way to assess the quality of a Whey protein supplement.
This supplement for every 100g in the unflavored version has a concentration of 21.9% of BCAA's.
Each shake contains 5.47g of this combination of essential amino acids.
What does this mean? Is it good or is it bad?
It's very good, and nothing like a comparison with other proteins to confirm it.
Comparative
| | | | | | | |
| --- | --- | --- | --- | --- | --- | --- |
| | Real Whey Isolate | Real Whey | ISO 100 Dymatize | ISO: PRO 97 | Scitec Isogreat | ON Gold Standard |
| BCAA?s/% | 21.9% | 19.2% | 19.3% | 22.1% | 20.8% | 18.7% |
So far we haven't evaluated many exclusively isolated protein supplements.
But we've already evaluated some.
As you can see in the table, only the ISO: PRO 97 from Myprotein gets an equivalent amount.
We've also included Real Whey in the concentrated version to see the difference between them.
In addition, the ISO 100 Dymatize and Isogreat from Scitec Nutrition are two examples of isolated proteins. Isogreat is still approaching, but the Dymatize supplement has clearly lower values.
Finally, the Gold Standard from Optimum Nutrition despite not being an exclusively isolated protein, it is considered by many as one of the best proteins on the market. It is significantly behind Real Whey Isolate.
Therefore, at a nutritional level, we are dealing with a top protein. It only needs an assessment to know what level it is in in general.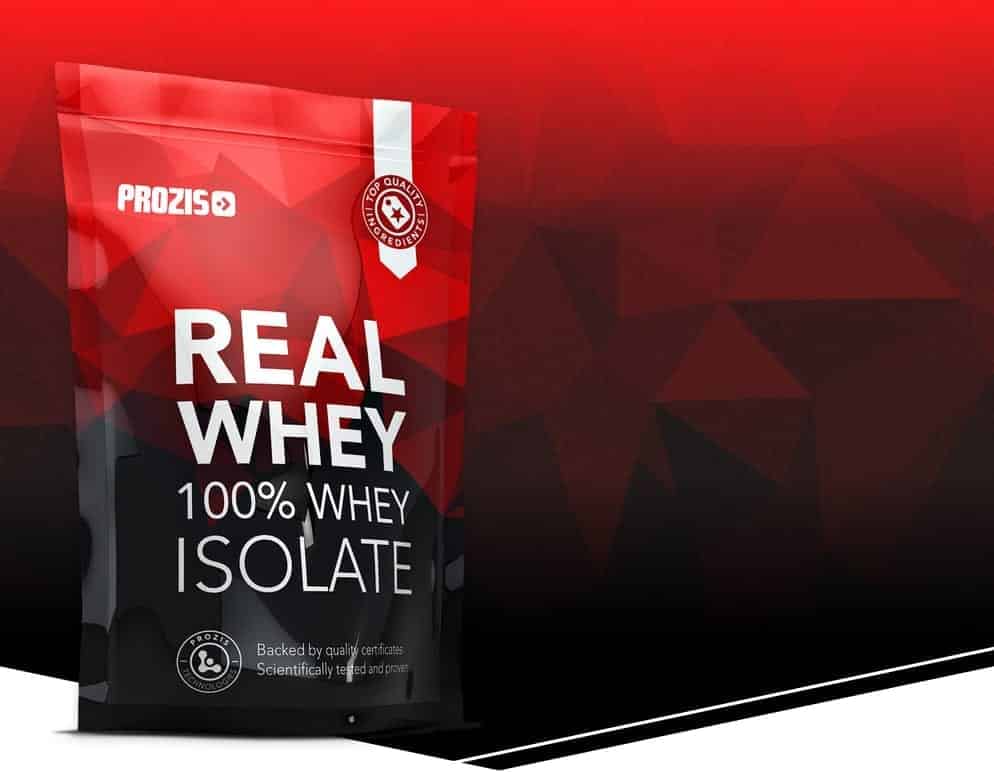 Price
Real Whey Isolate is only available in two sizes. 1kg and 2kg.
These are the current values, which are always subject to change, for the unflavored version of this supplement on the Prozis website.
| | | |
| --- | --- | --- |
| | 1 kg | 2 kg |
| Doses | 40 | 80 |
| Cost Per Serving | 0.60 ? | 0.48 ? |
| Cost per 100g protein | 2.55 ? | 2.04 ? |
| Total cost | 23.99 ? | 38.38 ? |
We start by saying that the price difference between the flavorless and the flavored version is really low.
Are we talking about a difference of 1? in the case of the size of 1kg and 1.6? in 2kg format.
That said, the price is really good for a Whey Isolate supplement. Especially when this Isolated Whey has this quality.
Each shake will cost 0.60? if you choose the size of 1kg or 0.48? in the 2kg variant.
Let's again put the numbers in perspective with other supplements.
Comparative
| | | | | | | |
| --- | --- | --- | --- | --- | --- | --- |
| | Real Whey Isolate | Real Whey | ISO 100 Dymatize | ISO: PRO 97 | Scitec Isogreat | ON Gold Standard |
| Cost per 100g protein | 2.04 ? | 1.56 ? | 3.32 ? | 2.91 ? | 3.34 ? | 3.12 ? |
The supplements chosen for the price comparison were the same ones used for the quality assessment.
As you saw above, only one supplement (ISO: PRO 97) faced Real Whey Isolate in terms of quality, and only another came close (Scitec Isogreat).
When it comes to price, Prozis Sport managed to put an extremely attractive value considering that we are talking about an exclusively isolated protein, and leave these two supplements (much) behind.
Furthermore, it is interesting to look and see that although Real Whey Isolate is much superior to Gold Standard from Optimum Nutrition, it costs much more, despite offering much less.
Compared to the concentrated version the difference is 0.48?. An obviously significant difference, but expected.
For an exclusively isolated whey protein supplement, this is a very good price.
What is the cost per 100g of protein?

The cost per 100g of protein is the calculation that tells you how much you will pay for 100g of pure protein, not for 100g of supplement. Example. Unflavored Real Whey Isolate for every 100g has 94g of protein, meaning you need 106.38g of Real Whey Isolate to get 100g of real protein. This is usually the most accurate and reliable method of calculating the cost of a protein, except in cases of aminospiking.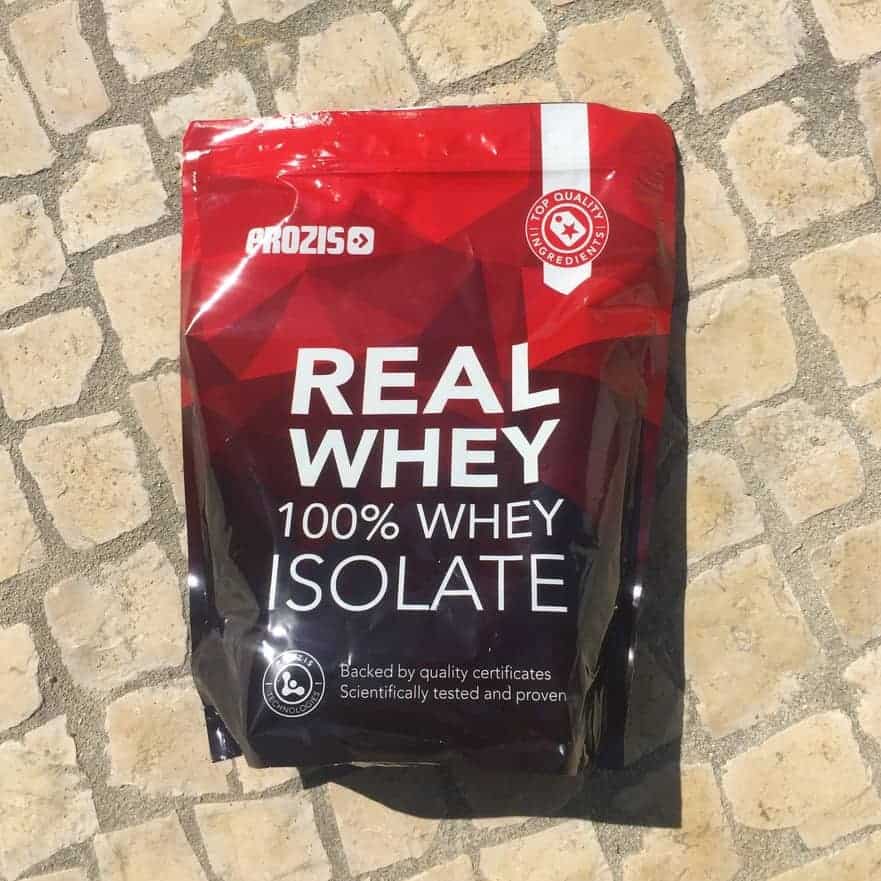 Verdict
THE Real Whey Isolate is the best choice in terms of quality/price in Whey protein supplements?
Do not.
This title belongs to Real Whey Concentrate and the Impact Whey.
But if what you are looking for is an Isolated Whey then you will hardly find a superior option.
Here's an excellent bet that doesn't sacrifice quality to get a good price. In fact, it combines both in an exemplary way.
Recommended.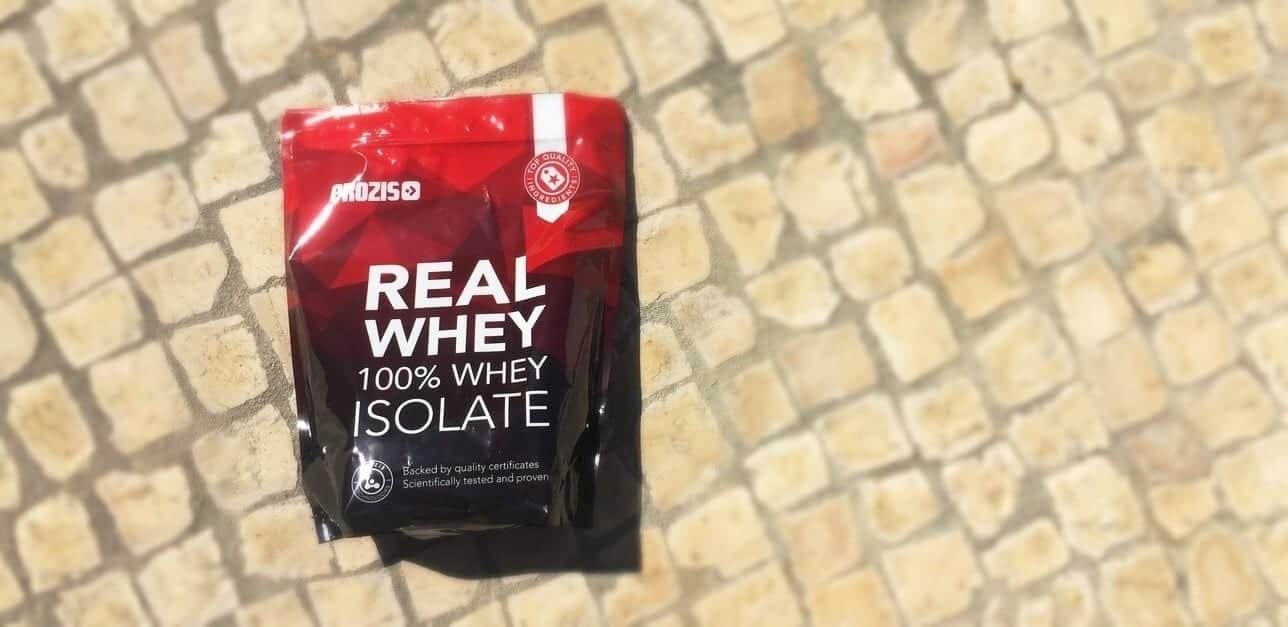 Prozis Real Whey Isolate, the review
Assessment
Isolated protein, no unnecessary additions and a good price. Is this what you're looking for? If yes, then you have a great choice here.