Xcore Nutrition Xtreme Whey Protein Supplement Review
Xtreme Whey Protein is one of several protein supplements from the Xcore Nutrition brand, being a formula that mixes whey protein concentrate with whey isolate.
This product is available in two sizes, the small of 907g and the largest of 2000g.
There are several flavors like chocolate, strawberry or even orange.
We will use the nutritional values of the chocolate flavor for the review of this supplement, since the values may undergo slight changes between the various flavors.
The two main ingredients of this supplement are the concentrated whey protein and isolated whey protein, and then we have cocoa, flavorings, sweeteners and soy lecithin as an emulsifier.
Finally, we also have the addition of a digestive enzyme, lactase, which helps in the process of digesting lactose.
So we have a supplement that includes only concentrated and isolated whey protein as a protein source, with no unnecessary additions and even lactase to help digest this protein, very good.
Nutritional value
| | | |
| --- | --- | --- |
| | 40g | 100g |
| Proteins | 31g | 77.50g |
| Carbohydrates | 3.3g | 8.25g |
| Fat | 2g | 5g |
These are the nutritional values of Xtreme Whey Protein in chocolate flavor.
Each serving of this supplement provides 31g of protein, however, it uses higher doses than most whey protein supplements, which at first glance can elude the most distracted.
The best way to evaluate the values of a protein supplement, is through its values per 100 grams of product, and in this case, we have a protein content of 77.50%.
Is 77.50% a good protein value for a concentrated / isolated whey protein supplement?
Yes No doubt.
As for carbohydrate and fat levels, they are ok.
Aminogram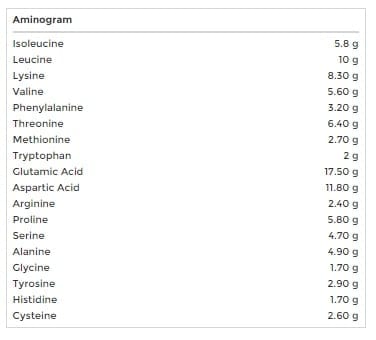 For each dose Xtreme Whey Protein from Xcore Nutrition has 6.6g of BCAA's, which is clearly very positive, but it is important not to forget, each dose of this supplement refers to 40g of product, slightly above what we found in most whey supplements.
Now, for every 100g of this supplement, your dose of BCAA's is 16.58%, that is, 16.58g of BCAA's per 100 grams of powder.
Is 16,58% a good value for BCAA's for a whey supplement?
In fact, although it is not bad, we expected better.
Let's put it next to the supplement Gold Standard by Optimum Nutrition, as the prices for both are similar.
| | | |
| --- | --- | --- |
| | Xcore Xtreme Whey | ON Gold Standard |
| Total Protein | 77.50g | 81g |
| BCAA's / 100g | 16.58g | 18.7g |
As we can see from the table, Xcore Nutrition Xtreme Whey Protein is inferior both in protein content and in the amount of BCAA's.
Pricing
| | | |
| --- | --- | --- |
| | 907g | 2000g |
| Doses / 40g | 22 | 50 |
| Cost Per Serving | 1.36 ? | 1.10 ? |
| Total cost | 30.00? | 55.00? |
As already mentioned, Xcore uses a reference dose for this supplement of 40 grams, which is above the average for whey supplements and, although it offers a higher dose of protein per shake, the number of doses and price per dose suffers a lot from it.
Xtreme Whey used according to the brand's references, is a very expensive supplement, costing up to 1.36? per shake in the case of the 907 gram version!
If we reduce the serving to 30g per shake, do we have 23.25g of protein and a cost of 0.82? per dose in the case of the 2000g bucket, which is still quite expensive, even more expensive than the famous Gold Standard by Optimum Nutrition!
In short, this is basically the most expensive whey supplement we've reviewed so far!
Where to buy?
You find this supplement available on here and you can still use the code GVIRTUAL to get 10% discount.
Conclusion
Xcore Nutrition's Xtreme Whey Protein is a supplement with a good protein content, which uses only concentrated and isolated whey as protein sources, without the use of the increasingly common ?extras? unnecessary, which is a good thing.
They contain a content of BCAA's of 16,58%, which is nothing special, especially when we take into account their EXTREMELY high price.
Although it is a reasonable whey supplement in terms of quality, when considering the price, it is difficult to justify the purchase of this product.