Myprotein BCAA's Supplement Review
After several analysis of proteins, creatines and even meals, it's time to take a look at a BCAA supplement.
We had already published an article on this type of supplement, in which it is not really an article, but a complete guide, since we have covered the topic in detail.
Find the complete guide on here.
Now, if you don't know what BCAA's are but you don't feel like reading a testament like the one you find in the guide, here is a summary.
BCAA's are a set of three extremely interesting amino acids for those who go to the gym and practice sports.
They are Leucine, Isoleucine and Valina.
If you have already read an analysis of a whey protein supplement here on the website, you know that we evaluate, whenever possible, the amount of BCAA's in each one.
This is because they are very important for anabolism, increase in lean mass, are anti-catabolic – prevent the loss of muscle mass – and reduce fatigue.
This is just a summary, so if you want to know more visit our guide.
Let's move on to the analysis of BCAA's in powder from Myprotein.
Note
We have a partnership with the Myprotein brand and these products were offered to us for testing.
That said, the partnership does not influence the analyzes made on the website, since we limit ourselves to assess the facts contained in the nutritional table, ingredients of each product, and in this case, also the taste, which is subjective and should be viewed as such.
Impartiality is the priority in all analyzes.
This partnership allows us to have some benefits not only for us but also for you who visit the site.
Visit the Myprotein page through from this link and use the code GVIRTUALMP and get a 35% discount * on your entire order.
* The discount may vary according to the promotions in force, but it is usually 35%.
Ingredients
As a rule, BCAA's supplements don't invent as many tricks as whey protein supplements.
While in whey, brands often add cheap amino acids, use low-value sources of protein, and other techniques to increase profit, this is less the case with BCAA's.
But it also happens.
Is it the case here?
Do not.
Myprotein BCAA's are available in two variants: with and without flavor.
In the case of the tasteless version, we have three ingredients.
Leucine, Isoleucine and Valine.
Yes, only BCAA's. Absolutely nothing else.
In the case of the flavored version, flavorings, sweeteners and sometimes dyes are added.
That is, the normal ingredients to give the desired flavor to the supplement.
Other than that, you won't find anything else in the package other than the scoop.
So, what about the ingredients?
They are BCAA's, period.
Formula
The formula used in this Myprotein supplement is the traditional one, that is, 2: 1: 1.
What does this mean?
Half of the supplement is Leucine, probably the most important amino acid of the three for gym-goers.
Then, both Isoleucine and Valina are divided into 25% each.
Why is Leucine in greater quantity?
Leucine is in greater quantity because it is the one with the greatest impact on anabolism and muscle growth.
This does not mean that others are not important.
Isoleucine promotes the consumption and storage of glucose within muscle cells, leading to a more efficient use of energy.
Although Valina participates in several processes similar to the other two companions, the impact is less.
So what about the formula?
It is the classic formula, it is the formula that you find in most quality supplements and the one with the best quality / price ratio.
It is also the most studied.
Basically, Myprotein did not try to reinvent the wheel and remained faithful to the formula already known and that works.
You can bet on an isolated Leucine supplement, but in that case you would lose the benefits of Isoleucine and Valine.
There are also supplements of BCAA's with different values, for example 4: 1: 1 that you find on here, but then you end up buying a supplement that is practically just Leucine.
In short, if you never use BCAA's, the ideal is to start with the classic formula, with a relatively balanced balance between the three amino acids.
With or without flavor?
If you choose the flavorless version, you save money, you have a higher concentration of BCAA's and you can mix it with your protein shake or other flavored drink.
It seems ideal, were it not for the fact that mixing it with something with flavor is almost mandatory, since the taste will not make you smile. It is unpleasant. Ideal for mixing, not very pleasant to drink alone.
In the case of the flavored version, the value is higher, you have a lower concentration of BCAA's due to flavorings and sweeteners and mixing with something already flavored makes the drink terrible.
On the other hand, with flavor it is ideal to use without adding anything, or to add to something without flavor.
It is ideal for drinking for example before, during or after training.
Or simply to enjoy a nice drink whenever you want, and without worrying about less interesting ingredients, or calories that don't benefit you at all.
Basically, it depends on the use you intend to give.
To flavor something or to drink by itself, the ideal will be with flavor.
Add to your flavored shake or show your friends that you are able to drink something unpalatable without making a face, the ideal will be without flavor.
The flavors
Myprotein sent us four new flavors that were recently introduced.
Mojito, Grenadina, Ice Tea and Kiwi.
These are flavors to remind you of summer.
Now, as you know, taste is very subjective, and each person has their own taste.
That said, we went to votes. Three people, four flavors.
Mojito
Very good.
If you add ice, or ice water, the flavor of the mojito is impressive and is undoubtedly one of the best of the four.
Obviously, to have a good taste, using BCAA's, and practically 0 calories, it is not possible to have a perfect replica of the traditional mojito. But ... come close.
The vote was unanimous with three positive votes and the favorite of one of them.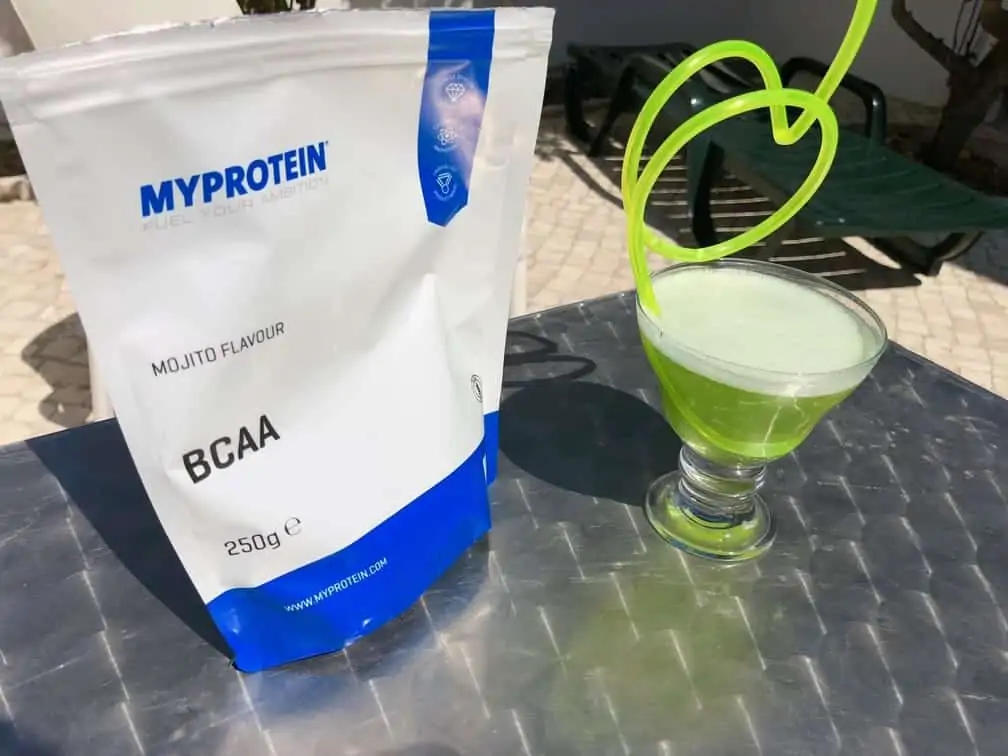 Kiwi
It is not a big deal.
The Kiwi flavor was probably the big disappointment of the four.
It's not that it's unpalatable, but it doesn't make you want to drink another one right away. It's not the kind of flavor you share and your training buddy steals the whole drink.
Basically, it doesn't impress.
In the Kiwi flavor the vote was different, only one in three liked it.
Ice Tea
For those who like Ice Tea, it's good.
For those who don't like it, it's more or less.
If you like it, it is a good option to test.
In the vote, he had two positive votes.
Grenadine
The big surprise.
Without really knowing what it was, we went there to test this flavor.
And impressed.
With ice, it is the type of late afternoon drink on a summer day. Refreshing and pleasant.
Recommended.
In the vote?
Three positive votes and two considered this flavor to be their favorite.
Pricing
You already know the ingredients, the formula too and you already have an idea of some flavors to choose from and others possibly to avoid.
But an important element is missing. The price.
| | | | |
| --- | --- | --- | --- |
| | 250g | 500g | 1kg |
| Doses | 50 | 100 | 200 |
| Cost Per Serving | 0.44 ? | 0.32 ? | 0.26 ? |
| Total cost | 21.99 ? | 31.99 ? | 51.99 ? |
One factor in which Myprotein usually stands out from other well-known brands is the price.
Not only in price, but in the fact of not giving up the quality of the product to be able to offer a more appealing price.
In the case of BCAA's in powder it is no exception as you can see from the table. (Original prices, in the flavored version and without any code applied)
The values are interesting, and with the constant promotions, or the use of our promotional code, then they become very interesting.
In the case of the flavors of this analysis, at the moment they are only available in the size of 250g and the price is lower than normal.
Bearing in mind that these are new flavors, the price is 19.99?, which gives a value of 0.40? per dose.
Bearing in mind that it is the first supplement of this type that we have analyzed, we have no analysis for comparison.
Where to buy?
You will find Myprotein BCAA's in powder on here and with the code GVIRTUALMP you are entitled to a 35% discount *.
* The discount may vary according to the promotions in force, but it is usually 35%.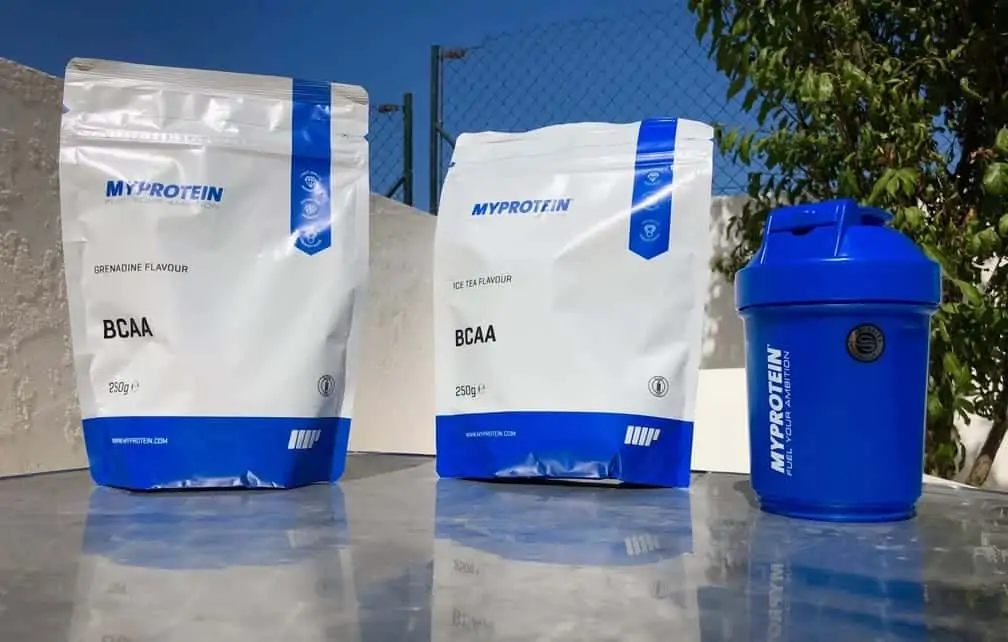 Verdict
What distinguishes this product in terms of quality from other good supplements on the market? Nothing.
Then? Why should I use this one and not another one?
Price.
The great highlight here goes to the good price, without sacrificing the quality of the product.
They're BCAA's, period.
But BCAA's are a very attractive price.
That's what sets them apart.
They do the job without attacking the wallet.
But don't forget, they are just BCAA's.
The diversity of flavors is also an asset.
Have you ever tasted any of the Myprotein's BCAA's? Leave your opinion in the comments.