Bulk Pure Whey Protein...good protein, or another one to leave out?
It's been a while since we published a review of a supplement here. A long time, in fact.
But here's the comeback and with a Whey protein.
The type of supplement that we have already analysed so much in site, of various brands, and that - we hope - will soon make a general update. O protein top very precise.
First of all, we leave here a note before starting the analysis itself.
If notes aren't your thing, you can always jump to the section that interests you.
Note
We have a small partnership with the Bulk brand.
By placing an order on the site following a our linkwe earn a small percentage. *
It's a brand we appreciate, and when the opportunity arose recently, we took it.
"Working" with brands that we consider to be of good quality makes everything easier, and we are selective in this respect.
However, as we have already mentioned several times, impartiality is our goal in all the analyses we do.
With or without partnership.
Here is no exception, and if you have any feedback to give, the comments area is always available.
In short, we have a partnership with the brand that sells the product we are now going to analyse.
* At no cost to you.
Ingredients
As many brands do, the Bulk Pure Whey Protein is sold with and without flavour.
The ingredients change very slightly, as does the nutritional value.
In the unflavored version this protein is made up of just two ingredients, Whey Protein Concentrate and Sunflower Lecithin.
If you have read any of our reviews, you know that this is, in our opinion, positive.
Protein without useless additions and only the inclusion of sunflower lecithin, an emulsifier.
This doesn't tell the whole story, or we'd stop here, but the ingredients used point to a good Whey Concentrate supplement.
In the flavoured versions, the usual ingredients are used.
In addition to Whey Concentrate and sunflower lecithin, flavourings, colours, sweeteners and thickeners are also present.
Nothing unusual.
With or without flavor?
The price is the same, with a slight nutritional advantage for the unflavoured version and a big taste advantage for the others.
Nutritional value
Ingredients presented, it's time for the valuable nutritional table.
The difference isn't much, but we chose to organise by unflavoured, vanilla and chocolate version.
| | | | |
| --- | --- | --- | --- |
| | Tasteless | Vanilla | Chocolate |
| Proteins | 77g | 75g | 72g |
| Carbohydrates | 4g | 9.1g | 12g |
| Fats | 7g | 4g | 4g |
As a (very) general rule, chocolate is the flavour that always has the worst nutritional values, regardless of the brand.
Vanilla usually represents a middle ground.
And then there's the tasteless one.
In terms of protein, the chocolate version has 5g less than the unflavoured Bulk Pure Whey Protein, and 8g more carbohydrates.
It wins, however, in fats, where it has 3g less. 2-1.
Vanilla comes close on a protein level to the unflavoured unflavoured, with slightly more carbohydrates but less fats.
The maximum protein you'll find in the Bulk Pure Whey Protein range is 77g as you can see in the table.
Basically, unless all your protein comes from shakes, and it's a good thing that's not the case, these differences won't have any impact on your results.
Aminogram
This is the aminogram of Bulk Pure Whey Protein (Source)
| | | | |
| --- | --- | --- | --- |
| Amino Acid Profile | | | |
| Alanine | 4.00 | Lysine | 7.33 |
| Arginine | 1.67 | Methionine | 1.67 |
| Aspartic acid | 8.67 | Phenylalanine | 2.33 |
| Cysteine | 1.67 | Proline | 4.33 |
| Glutamic Acid | 14 | Serine | 3.67 |
| Glycine | 1 | Threonine | 5.33 |
| Histidine | 1.33 | Tryptophan | 1.00 |
| Isoleucine | 5 | Tyrosine | 2.00 |
| Leucine | 8 | Valina | 4.67 |
It has already become a habit.
How much glycine does the protein have?
Although in this case, according to the ingredients, it was only habit and not logic.
It's a perfectly normal aminogram, of a protein with 77% protein content, and it doesn't make use of tricks like many brands on the market.
The total amount of BCAA's per 100g of Bulk Pure Whey Protein is 17.67%.
It's good? It's bad?
We won't get into big comparisons for now, because as we said, we have to update the reviews section of the site.
However, it is within the standards for this type of protein.
Price
And so we come to probably the most complicated area of the analysis.
Because?
Because base prices are hardly ever used, and if they are used, they change the valuation of this supplement quite a bit.
Whether it's a promotion or a promo code, the value always ends up being (significantly) lower than it's supposed to be.
We have drawn up two tables to represent this, one with the base value and one with the promotion in force at the moment (45% discount).
| | | | | |
| --- | --- | --- | --- | --- |
| | 500g | 1kg | 2.5kg | 5kg |
| Normal price | € 14.99 | 25.99€ | 56.99€ | 99.99€ |
| With discount | 8.23€ | 14.28€ | 31.33€ | 54.98€ |
That base price for the 5kg format is not very nice to pay, but as you can see, it's currently at £54.98 without using any code.
| | | | | |
| --- | --- | --- | --- | --- |
| | 500g | 1kg | 2.5kg | 5kg |
| Cost per dose/30g | 0,90€ | 0.78€ | 0,68€ | 0,60€ |
| Cost / 100g protein | 3,89€ | 3,37€ | 2,96€ | 2,60€ |
| With promotion | | | | |
| Cost Per Serving | 0,49€ | 0,43€ | 0,38€ | 0,33€ |
| Cost / 100g protein | 2,13€ | 1,85€ | € 1.62 | 1,43€ |
The cost per 100g of protein represents what you pay not per 100g of product, but per 100g of pure protein even.
It is a very effective way of checking the cost of a product against the cost per dose.
In this case, you need 129.87g of product to get 100g of protein.
Looking at the two figures, the one with and the one without promotion, it seems that we are looking at two different products.
It's not the case.
But that's the assessment.
One variant of Bulk Pure Whey Protein is a good choice, the other is not.
The one that costs £56.99 for 2.5kg is a choice that leaves something to be desired due to its price.
The one that stays at £31.33 for the same quantity is another story.
In other words, we have two evaluations for the same protein.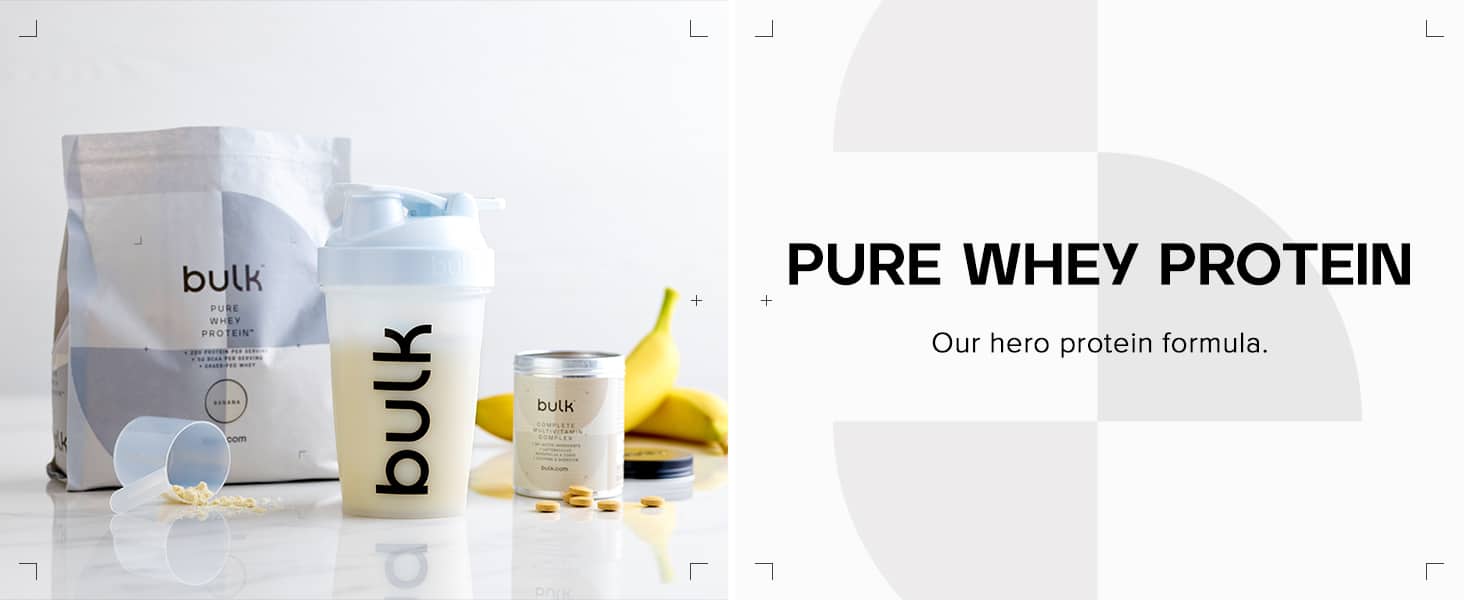 Where to buy?
You find Bulk Pure Whey Protein available on here.
If you have never used Bulk before, use this link and you are entitled to 35% discount on your entire order.
Verdict
Bulk Pure Whey Protein is a protein in the range of Impact Whey from Myprotein and Real Whey from Prozis.
Simple and quality.
No unnecessary additions and the protein you're looking for.
However, much like mainly Impact Whey, but also Real Whey, it's a choice that depends on whether you get them on sale...or not.
The base price is high.
The good news is that the promotions are extremely regular.
In short, if you find Bulk Pure Whey Protein on promotion, it is most likely a good buy (also depends on the promotion, obviously).
Already in the case of the base price, as you may have realised, it's not a great choice.
The quality is there, it is just a question of at what price that quality is.
Recommended...on promotion.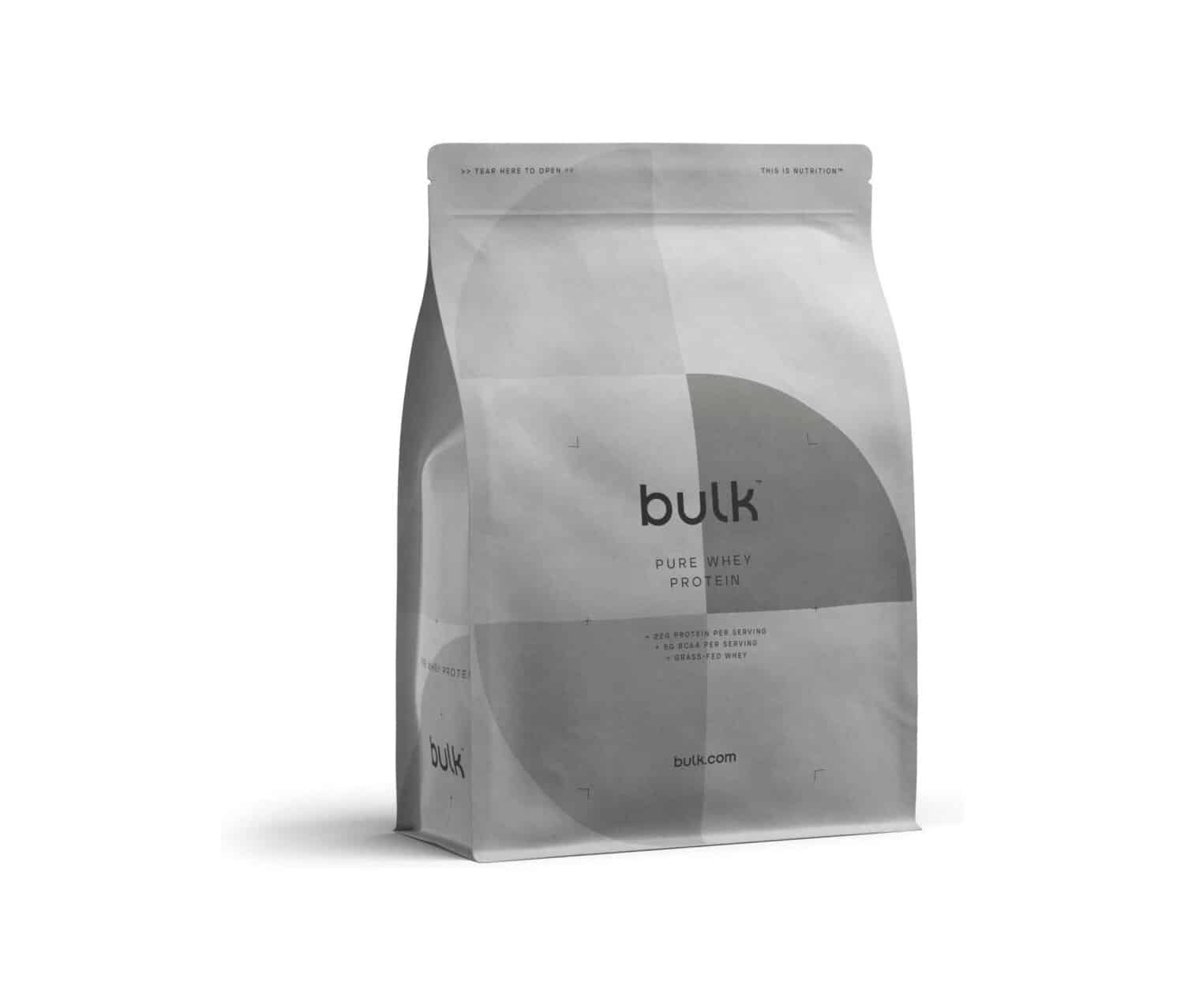 Positive points
Good quality protein
Good price...usually
Variety of flavours
Negative points
Bad Price...rarely