Nutrition
Nutritional Table
Uma tabela nutricional com os valores para os alimentos mais comuns em dietas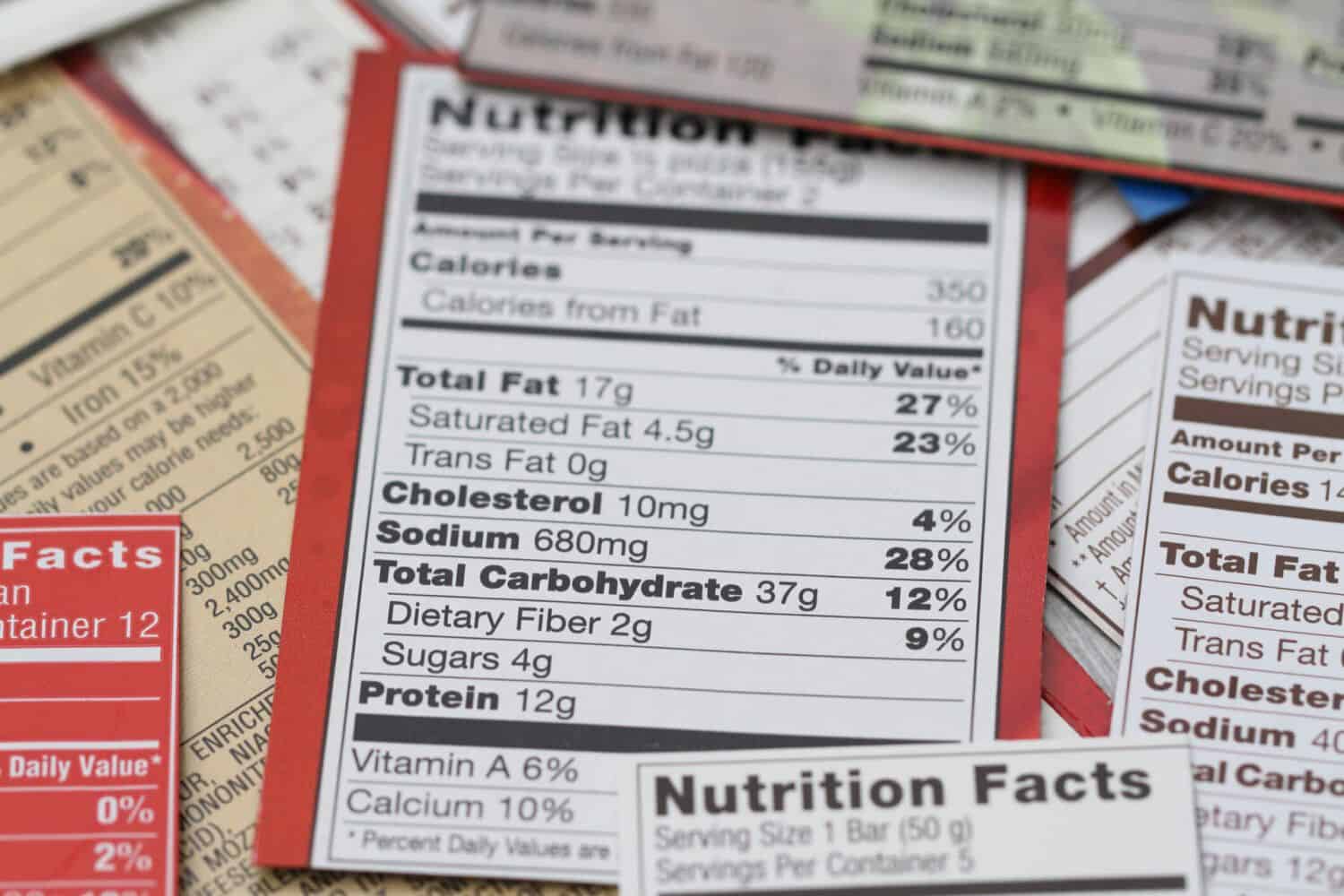 To build your diet, it is important to know the nutritional values of food.
In this table you will find the amount of each macronutrient per food, as well as the number of calories.
All values are presented raw, i.e. the values are for 100g of each food before cooked.
They are just approximate values, ideally guided by the label since there are always variations from product to product.
Nutritional Table
| | | | | | |
| --- | --- | --- | --- | --- | --- |
| Food / 100g | Calories | Carbohydrates | Protein | Fat | Fiber |
| Oat Flakes | 390 | 66 | 16 | 7 | 10 |
| Rice | 370 | 82 | 7 | 1 | 3 |
| Brown Rice | 370 | 77 | 8 | 3 | 4 |
| Spaghetti | 358 | 71 | 12 | 2 | 5 |
| Black Bean | 341 | 62 | 22 | 1 | 15 |
| Butter Beans | 275 | 43 | 22 | 1 | 23 |
| Fuse Beans | 329 | 55 | 23 | 1 | 9 |
| White Beans | 277 | 44 | 21 | 1 | 23 |
| Sweet Potato | 86 | 20 | 2 | 0 | 3 |
| Potato | 77 | 18 | 2 | 0 | 2 |
| White bread | 266 | 51 | 8 | 3 | 2 |
| Wholewheat Bread | 247 | 41 | 13 | 3 | 7 |
| Egg (L) | 69 | 0 | 6 | 5 | 0 |
| Skinless Chicken Breast | 110 | 0 | 23 | 1 | 0 |
| Turkey Breast Skinless | 111 | 0 | 25 | 1 | 0 |
| Wheat Flakes | 360 | 69 | 14 | 2.5 | 9 |
| Peas | 306 | 49 | 23 | 1 | 15 |
| Lentils | 303 | 48 | 25 | 1 | 12 |
| Grain | 332 | 51 | 19 | 5 | 14 |
| Soybean grain | 378 | 18 | 33 | 19 | 14 |
| Tuna | 140 | 0 | 24 | 5 | 0 |
| Cod | 76 | 0 | 18 | 1 | 0 |
| Bacon | 367 | 0 | 14 | 35 | 0 |
| Lamb, Chop | 124 | 0 | 20 | 5 | 0 |
| Shrimp | 77 | 0 | 18 | 1 | 0 |
| Horse mackerel | 105 | 0 | 20 | 3 | 0 |
| Mackerel | 202 | 0 | 20 | 13 | 0 |
| Choco | 79 | 0 | 19 | 0 | 0 |
| Rabbit | 117 | 0 | 20 | 4 | 0 |
| Golden | 167 | 0 | 20 | 10 | 0 |
| Swordfish | 97 | 0 | 18 | 3 | 0 |
| Chicken Leg Skinless | 111 | 0 | 22 | 3 | 0 |
| Cow Burger | 142 | 0 | 20 | 7 | 0 |
| Squid | 71 | 0 | 16 | 1 | 0 |
| Duck Without Skin | 133 | 0 | 19 | 6 | 0 |
| Black SwordFish | 88 | 0 | 16 | 3 | 0 |
| White Sword Fish | 117 | 0 | 20 | 4 | 0 |
| Partridge | 104 | 0 | 23 | 1 | 0 |
| Hake | 75 | 0 | 17 | 1 | 0 |
| Octopus | 73 | 0 | 16 | 1 | 0 |
| Pork Rib | 190 | 0 | 20 | 12 | 0 |
| Pork Loin | 131 | 0 | 22 | 5 | 0 |
| Ham | 215 | 0 | 25 | 13 | 0 |
| Streak | 58 | 0 | 14 | 0 | 0 |
| Sea bass | 145 | 0 | 19 | 8 | 0 |
| Salmon | 208 | 0 | 20 | 13 | 0 |
| Sardines | 158 | 0 | 19 | 9 | 0 |
| Flounder | 90 | 0 | 19 | 2 | 0 |
| Cow, Rump | 122 | 0 | 21 | 5 | 0 |
| Cow, Loin | 114 | 0 | 21 | 3 | 0 |
| Veal, Chop | 120 | 0 | 20 | 5 | 0 |
| Veal, Loin | 148 | 0 | 20 | 8 | 0 |
| Veal, Breast | 147 | 0 | 20 | 8 | 0 |
| Slim natural yogurt | 42 | 5 | 4 | 0 | 0 |
| Skimmed Milk | 34 | 3 | 5 | 0 | 0 |
| Half-Fat Milk | 47 | 3 | 5 | 2 | 0 |
| Fatty Milk | 62 | 3 | 5 | 4 | 0 |
| Olive oil | 900 | 0 | 0 | 100 | 0 |
| Butter | 750 | 1 | 0 | 83 | 0 |
| Food Oil | 896 | 0 | 0 | 99 | 0 |
| Avocado | 108 | 2 | 1 | 11 | 3 |
| Peanut | 571 | 10 | 25 | 48 | 9 |
| Pineapple | 44 | 10 | 1 | 0 | 1 |
| Hazelnut | 677 | 6 | 14 | 66 | 6 |
| Olive | 172 | 0 | 1 | 19 | 4 |
| Banana | 95 | 22 | 2 | 0 | 3 |
| Chestnuts | 185 | 40 | 3 | 1 | 6 |
| Cherry | 60 | 13 | 1 | 1 | 2 |
| Kiwi | 53 | 11 | 1 | 1 | 2 |
| Raspberry | 34 | 5 | 1 | 1 | 7 |
| Orange | 42 | 9 | 1 | 0 | 2 |
| Apple | 57 | 13 | 0 | 0 | 2 |
| Sleeve | 52 | 12 | 0 | 0 | 3 |
| Watermelon | 24 | 6 | 0 | 0 | 0 |
| Cantaloupe | 20 | 4 | 1 | 0 | 1 |
| Strawberry | 29 | 5 | 1 | 0 | 2 |
| Walnut | 689 | 4 | 17 | 68 | 5 |
| Pear | 41 | 9 | 0 | 0 | 2 |
| Peach | 38 | 8 | 1 | 0 | 2 |